How Diverse Is Your Anchor Text?
Google has made it abundantly clear that optimized anchor text, and overuse of the same anchor text isn't such a great idea. For years, online marketers were able to just blast out a bunch of backlinks containing their target keyword and they would be able to rank with ease. That's just not the way it works anymore.
What is optimized anchor text?
I first heard of the term optimized anchor text from Google, so they may have coined the term. Basically it's just anchor text containing your target keywords. In most cases, it's exact match anchor text.
For instance, if the keyword you were trying to rank for was best wedding dresses, examples of optimized anchor text would be:
"best wedding dresses"
"best wedding dress"
"the best wedding dress"
They all contain the exact same keywords, and it's evident what you're trying to rank for. Google does not like this at all.
Why does Google hate optimized anchor text?
To put it simple, when you have 100 backlinks all containing the exact same anchor text, it's a pretty big sign that the backlink wasn't earned according to Google's guidelines and best practices.
Google's ideal SEO campaign would be one where content creators (such as bloggers and businesses) generate quality, relevant content. Then, that content would be shared by people who found it to be useful, and subsequently spread it around the internet.
Google's algorithms would see this content as useful and relevant because of how much its being shared, and the page would ultimately appear towards the top of the SERP when people search for keywords related to that content.
This is where the problem with optimized anchor text lies. When people share content naturally, they generally don't all use the same exact words to link to the original source.
Let's say for instance, Billy wrote a blog post about how to pick the best wireless mouse. Then, 5 other bloggers find Billy's post when doing research for new articles they're writing:
Blogger #1 is writing an article about what students need for college, and they want to reference Billy's article to help students pick a wireless mouse.

Blogger #2 is writing an article about how wireless mouses are better than wired ones and links to Billy's article for more info on wireless mouses

Blogger #3 is writing a review on one of the wireless mouses Billy mentioned in his article, and wants to link to Billy's post to add credibility to their review.
What do you think the chances are of all 3 of these bloggers using the exact same anchor text when they reference Billy's post in their articles? Not likely.
That example is just 3 links. When internet marketers make the mistake of using the same anchor text for all their backlinks, they're usually building hundreds of links, all with the exact same anchor text. Don't you think that makes Google suspicious of how these links were "earned"?  
And this is what's key in linkbuilding. Google wants people to earn backlinks, not create them. There's a huge difference.
How diverse should my anchor text be?
As diverse and unique as possible. Technically, you shouldn't have too much control over the anchor text of your backlinks because the links should be coming from other people. However, there are instances like guest blogging, where you actually do have control over what words are used to link back to your site. And in those situations, you have to use your own judgement.
Some people use formulas, or will limit the percentage of times they use any particular keyword for their anchor text. For example, 25% of your anchor text will include your target keyword, 25% will include your brand name, etc. While that technique may work for some people, it makes things more complicated than necessary.
What it all boils down to is that Google doesn't want people using optimized anchor text. They say it right on their Link Schemes page: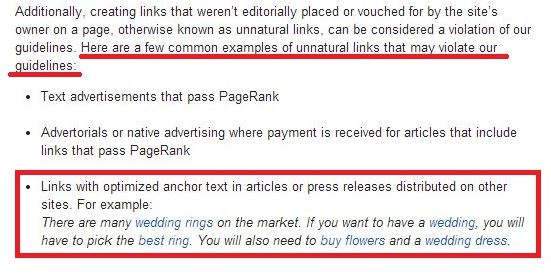 So what does that mean for us marketers? Use relevant, but not 100% exact match keywords for your anchor text when guest blogging. If you're linking to a page about the best shoes for running, you shouldn't have 100 backlinks all with the anchor text of "best shoes for running".
Is optimized anchor text ever ok?
My general rule of thumb is to only use exact match anchor text when it makes sense. Don't try to force your keywords into a backlink. Despite how it may seem at times, Google's algorithms are actually pretty smart.
If you have great on page optimization and your backlink comes from a relevant site with relevant (but not exact) anchor text, Google is pretty good about establishing the relationship/connection.
When linking to blog posts or articles, sometimes it's helpful just to use the title of the article as your anchor text. This is assuming that you didn't overly optimize your title however.
Google's advice
In the PDF from Google I linked to above, there's a section all about anchor text. In that section, Google tells marketers exactly what you should and should not do. Read through the whole thing when you get a chance, but here are some key points:
DO Be descriptive with your anchor text- Your anchor text should tell readers or Google what the page you're linking to is about

DO Be concise- Keep your anchor text to just a few short words or a phrase

DO Make anchor text stand out- Your links should be formatted differently from the rest of your text. That usually means underlining and using a different color text for hyperlinks

DO Link to internal pages- For your own site, link to pages within your own site as well as external ones

DON'T Use generic text- Avoid words like "page", "article", "click this"

DON'T Use your page URL- Don't use the URL of the page you're linking to as your anchor text

DON'T Write use long anchor text- Your anchor text should be a sentence long

DON'T Stuff your anchor text with keyword- This is basically what this entire post is about
Do you feel lucky?
Despite all of the changes to Google's algorithm, marketers will continue to use linkbuilding techniques that don't exactly gel well with Google's policies. There will still be people who use the exact same keyword for all of their backlinks and probably even increase their rankings.
What you have to decide is whether or not you want to risk potentially ruining your rankings by using techniques Google clearly doesn't like. It might work, it might not. Nobody knows what the heck Google will do to alter the SERP next. So the best thing you can do is try to follow their guidelines as close as possible.
Webinars On Demand
With all of the technologies available to marketers today, have we lost that personal touch? Join VP of Content Marketing for ON24, Mark Bornste...

In the ever-changing world of digital marketing, operational efficiency, quick turn-around times, testing and adapting to change are crucial to...
Whitepapers
Video is expected to account for three-quarters of all mobile traffic by 2020.  But, creating powerful, effective video requires a significa...

Marketers are constantly seeking to engage with their buyers and drive actions that help buyers move rapidly through their customer lifecycl...