The guidelines around how to develop effective messaging in your company's ads have evolved considerably over the past 100 plus years. Fans of the TV show 'Mad Men' would be aware of the ad creation process in the 60s, which revolved heavily around storytelling via visual marketing collateral. And while that method is still well used, we now additionally rely on digital space advertising.
In the past, our ads drew on teasers, click-bait, and short descriptions in order to prompt prospects to click through to our product or service. As of the latest research, you have less than two seconds to grab the attention of a potential customer online - two seconds and they're gone, they've already continued scrolling.
This means that the very first words a person sees on your posts, your ads and/or your website need to grab their attention immediately. One effective way to do this is by utilizing a competitive advantage first focused approach.
What is 'competitive advantage first' language' marketing?
The competitive advantage first approach focuses on prioritizing your unique offerings, your differentiators in the very first copy of your ads - preferably at the beginning of the sentence.
If you're unsure of what makes your company different, you'll need to take a step back and do some hard research. Poll your current customers about what keeps them coming back, looks at what people are saying about your business in reviews, mentions on social, etc. What is it that comes up as the key defining feature that you want to be known for, and that others consistently refer to?
Why it works?
Very few businesses are entirely unique. There are likely hundreds or thousands of companies that do what you do, so you need to stand out to succeed. Catching the customer's eye with your competitive advantage can be key to giving them a reason to click through.
Your secret sauce needs to be exactly what the customer needs, thinks he/she needs and/or doesn't yet know they need yet. You are the answer to the question they're asking.
Once you can adequately identify your competitive advantage, you can start working on the copy to place on your digital marketing campaigns. Your campaign language should visibly state how your service/product brings value.  If you only have those two initial seconds, it's vital that the first words people see outline a value.
Remember to try and steer with positive adjectives, and to tailor each campaign to the audience you're targeting.
Examples of Competitive Advantage First Language Ads:
Monday.com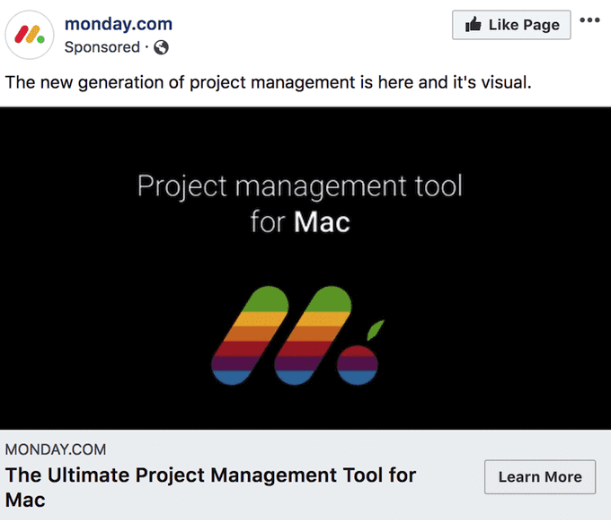 This ad is a prime example of presenting its core value to a select audience. Monday's Competitive Advantage? They've clearly conducted research on their audience and know that the demographic they're targeting respond to adjectives like "new generation". So, as you can see, they've lead with that claim.
Additionally, Monday.com claims to be the project management tool for Mac users, while visually, they fill in their logo with the Mac brand colors to connect the two even further.
Allbrids.com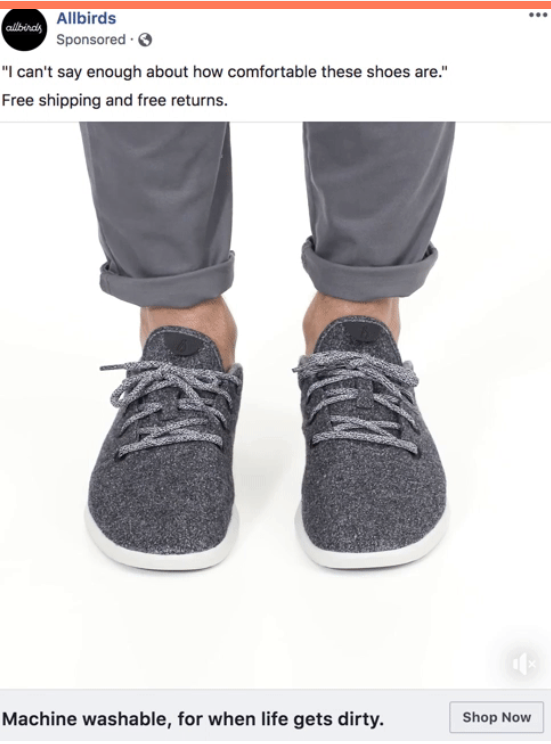 Allbirds successfully uses competitive advantage first language in this ad - notice how they structure the ad copy under the video. 'Machine Washable' is the biggest value, and they've placed that at the beginning of the sentence. Normally it would be phrased something like: "When life gets dirty, you need machine washable shoes", but Allbirds have taken the value and restructured the sentence to grab attention.
You can see how, by defining your key traits, you can boost your ad responsiveness. If there's a key element you serve, it makes sense to highlight that in your copy - and with so little time to stop the scroll, you need to do so quickly.