I love content marketing. Not only because it builds brands and boosts sales but also because it offers long-term dividends.
Are all content marketers able to harness the real power of content marketing to bring in big dollars? No!
Only 3% B2B content marketers rated their content marketing approaches extremely successful while 53% content marketers believe their content marketing strategies to be moderately successful in the Content Marketing Institute's research 2017.
Considering the content marketing budget that is 39% of the total marketing budget, it is imperative you, as a marketer, should maximize the success of your content marketing efforts.
How can you ensure the success of your content marketing strategy to boost sales?
Here are five mistakes and reasons why your content marketing campaigns will fall flat and are not generating sales.
 1. Not Building Buyer Personas
No soldier can hit the target, flying in the dark and shooting aimlessly. Can they?
My friend, executing a content marketing strategy without building a buyer persona is the same sort of thing.
And I'm sure you wouldn't like to do such a thing. In fact, you want your content marketing campaigns to be spot on. How can you ensure it?
You must create content to cater to your customers. This is the only way get the most out of a content marketing campaign.
This simply means your content should speak to your customers' challenges and pain points. And there is only one way to create such type of content - to know your customers thoroughly.
A buyer persona is a great tool for marketers to understand common behavior patterns of buyers.
Here are seven parts that you should include to create a buyer persona for content marketing:
Obstacles and problems
Questions
Preferences
Objectives
Keywords and phrases they use
Engagement scenario
Many marketers miss documenting engagement scenario of their buyer personas. This can have serious implications on the success of a content marketing campaign.
If you don't know how your customers come into the contact with your content, your content will not have a deep reach into your target customers.
Build a detailed buyer persona to maximize the success of your content marketing campaigns.
2. Absence of Customer Empathy Map
 You have located your customers. Now, you have to crawl into your customers' minds.
How?
The answer is customer empathy map.
Don't be puzzled if you haven't heard about customer empathy map earlier.
Customer empathy map is a tool to get insights into customers' minds. Originally created by David Gray, a customer empathy map typically looks like as below: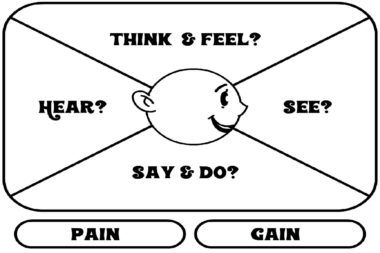 With the help of customer empathy map, you can understand what your customers hear, what your customers think and feel, what your customers see, and that what they say and do on a daily basis.
To create a customer empathy map, you should use a sticky board and sticky notes of different colors.
As creating a customer empathy map is a collaborative exercise, you should consider including following people:
Stakeholders
Vendors
Customer support leads
Product developers
Salespeople
Copywriters
After creating a customer empathy map, you know what type of content you should create to engage your target audience.
You might think that creating a customer empathy map an overwhelming task, but believe me knowing your customers thoroughly increases the chances of content marketing boosting your sales.
3. Content isn't Mapped to Buyer Journey
Creating tons of useful content won't give you handsome return if the content is not mapped to buyer journey. How will you do it?
You need to first understand sales funnel that consists of the different stages a buyer go through to buy a product - from visiting your website to contacting your sales department.
Optinmonster has explained typical sales funnel as below:
Content that you create based on buyer persona and customer empathy maps must be mapped to buyer journey.
Here is how you can do it:
Awareness - Whitepapers, ebooks, editorial content, expert content, educational content, research reports, etc.
Consideration - Expert guides, comparisons, webcast, podcast, live interaction, etc.
Preference - Vendor comparison , case studies, product comparison, etc.
Purchase - CTA buttons, trial download, product literature, etc.
Loyalty & Advocacy - social media posts, emails to existing customers, etc.
At every stage of buyer journey, you need to have content ready to address the queries/fear/ reservation of buyers.
4. No Content Distribution Plan
Do you have a documented content distribution plan?
There are two golden rules to content marketing - the first is to create useful content mapping to buyer's journey, and the second is get this content in front of your prospective customers.
Needless to say, in the absence of a content distribution strategy, your content won't get much traction, no matter how great your content is.
If you want to get the return on investment of every dollar you spend on content marketing, you should create an aggressive content distribution plan. How?
There are three content distribution channels, and you need to make a plan for all of these channels.
Owned Distribution Channels
 You should always distribute core content on distribution channels that you own, such as your website, blog, social media followers, and RSS subscribers. As you own these channels, content will not fall victim to changing rules of distribution platforms.
Earned Distribution Channels
Content distribution channels, such as growthhackers.com, inbound.org, SlideShare, Quora, and YouTube are earned channels. You need to build audiences on such channels to leverage their power. A good thing about earned distribution channels is that your content can become viral here as your authority grows on these platforms.
Paid Distribution Channels
Display ads, paid search results, and sponsored posts, paid social media ads are the examples of paid distribution channels. Paid distribution channels offer immediate results.
Now the question is which type of content distribution channel you should focus on?
The answer is all of them.
To boost the sales through content marketing, your objective should be to get content in front of a large audience, and single distribution channel cannot achieve your objective.
However, you should appropriate your efforts for distribution channels based on your current presence on these channels.
If, for example, you have strong owned and earned distribution channels, you won't have to spend a great deal of money on paid distribution channels as you can reach your lots of customers through owned and distribution channels.
5. Poor Tracking, Analyzing and Tweaking
Content marketing is not rigid. To optimize the success of content marketing campaigns, you should create an agile content marketing strategy.
What is agile content marketing strategy?
Agile content marketing is a content marketing strategy that responds and adapts to the need of your audience. It is all about tracking, analyzing, and tweaking to maximize the sales through content marketing.
You should measure content marketing metrics, especially sales, to gauge the success of your efforts and tweak your strategy to make it more effective.
Remember, it takes some time to actually see the real impact of content marketing. It is the long-term strategy. You should keep patience.
Final thought,
Content marketing, if used strategically, is one of the best marketing methods to build a brand and boost sales. But not all marketers can leverage the true power of content marketing to increases sales.
Avoid making these content marketing mistakes. This will ensure that your content marketing efforts bring a boatload of dollars.
Image Sources:
Image 1: Entrepreneur
Image 2: Optinmonster