For digital marketing agencies, it's impossible to function without a range of dedicated tools and apps.
These days, there's a huge range of analytics and management tools available - and because of this, every agency has to conduct extensive research in order to find the right tool/s for the various activities they need to facilitate. That takes time, and effort - and you may also be missing out on new tools which have been released since settling on your chosen option, which could end up putting you a step behind the rest of the field. 
In this post, we'll take a look at some of the current, best used for social media marketing - a field which can be responsible for increasing brand awareness, providing customer service, boosting sales, and conducting market research.
The listed tools will help in each respect - here are some key apps worth considering in your process.
1. Awario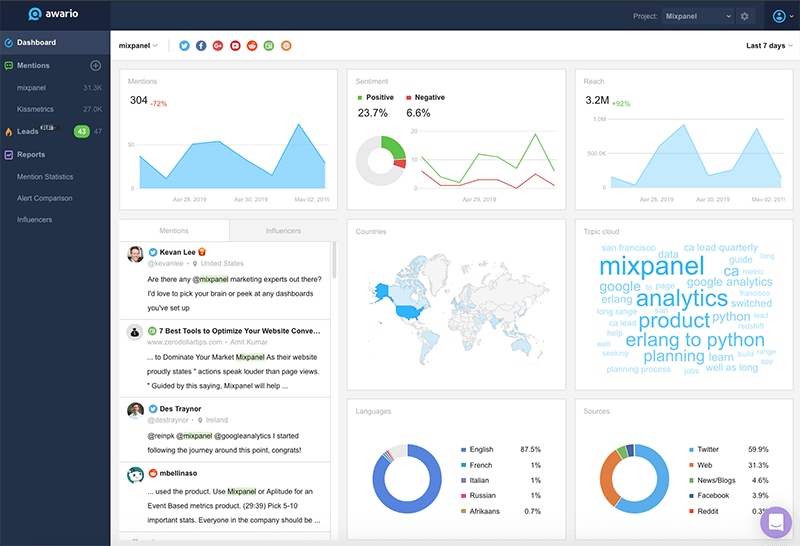 Awario is primarily a social media listening tool which enables you to monitor all the major social media platforms, news, forums, blogs, and the wider web for mentions of your client's brands (or any other keyword). Awario's Enterprise plan allows you to create up to 50 alerts, and collect tons of mentions, including both real-time and historical ones. This will ensure you're aware of the present state of your clients' online presence at any point in time.
To ensure you get relevant mentions only, Awario has a Boolean search option which lets you tweak each query, and decide for yourself how the tool will be searching for your keywords. Awario can display mention growth and reach over time, provide sentiment analysis, perform competitive analysis, and find social media influencers as well.
The tool also enables users to invite multiple team members with different access permissions, which makes it perfect for agencies. It also lets users create white-label PDF reports and export data.
Pricing: Enterprise plan starts at $299 per month. Free trial available (no credit card is required).
2. SproutSocial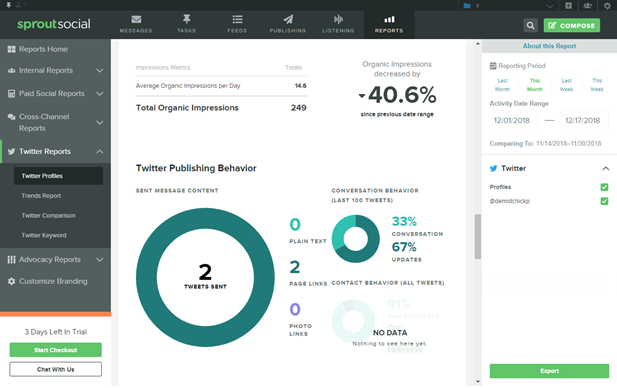 SproutSocial is a multi-client social media management tool which covers publishing, social media monitoring, messaging, engagement, analytics, and reporting.
You can monitor and engage with messages from Facebook, Twitter, Instagram, and LinkedIn, and also monitor and engage with comments on all of your owned profiles. For Facebook and Instagram, you can also track the activity on your paid posts.
You can view, manage, schedule, and publish social posts across multiple profiles, networks, and campaign tags. You can also edit images and text with the built-in editor. SproutSocial even has patented 'send time optimization' technology, which ensures that your posts are published at optimal engagement periods.
SproutSocial analytics spots trends for each niche you work with, and can highlight influencers, track social media campaign performance, analyze sentiment behind brand mentions, and tracks engagement, impressions and follower growth across profiles. All of these metrics are included in white-label PDF reports.
SproutSocial can also be integrated with Google Analytics to make it easier for you to understand how social channels drive traffic to your site.
Pricing: Sprout Social's advanced plan is $249 per user per month. Free 30-day trial is available.
3. Nuvi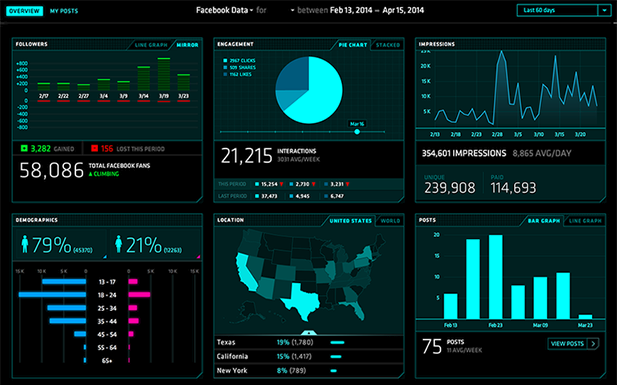 Nuvi is a social media intelligence platform which, much like SproutSocial, enables you to listen, plan, publish, engage, and analyze.
To make it easier to work as a team, Nuvi has a permissions-based collaboration and workflow which enables you to include the right team members at the right time. Team members can message each other and assign tasks - and all edits are tracked and saved so you can always roll back to an earlier version, or see who contributed and at what stage.
The social listening feature covers mentions from Twitter, Facebook, Instagram, YouTube, Reddit, VK, and blogs. Nuvi's analytics suite highlights customers' demographics, locations, impressions, and interactions. The tool can also locate relevant social media influencers based on brand-related conversation.
But what's most exciting about NUVI is its design. It's so good that your clients are likely to enjoy the data just by looking at the colors. Social media reports can also be automated and regularly delivered to your inbox.
You can also plan, schedule, and publish content. You can also see which content (yours and your competitors') performs best.
Pricing: Available on request. You can sign up for a demo here.
4. Clarabridge CX Social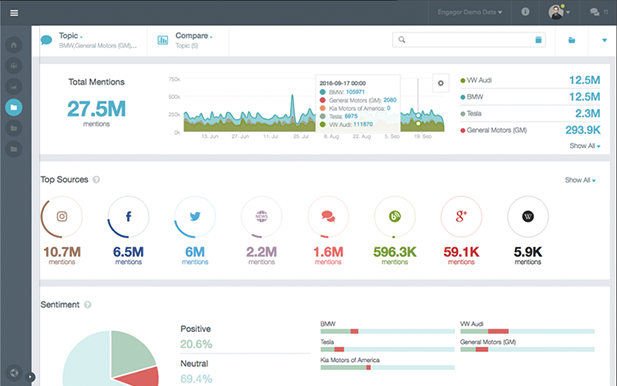 CX Social is a social media analytics and engagement tool which is a good fit for agencies that aim to talk to their clients' customers, rather than just analyze the data.  
CX Social monitors all the major social media platforms, review sites, forums, blogs, and news sites, and analyzes sentiment, engagement rate, customer care level (response time), mentions' growth, and performs competitive analysis.
With CX Social, you're constantly connected to different messaging apps, email, and community support forums as well as social networks, which will enable you to reply to interact with customers at any time. The tool is also full of pre-built canned responses and crisis plans in case there's an unexpected situation. 
The tool has an open API, and out-of-the-box integrations with CRM, support, and ticketing systems. CX Social also boasts strong collaborative features to help maintain team involvement.
Pricing: Available upon request. You can sign up for a 14-day trial.
5. Rival IQ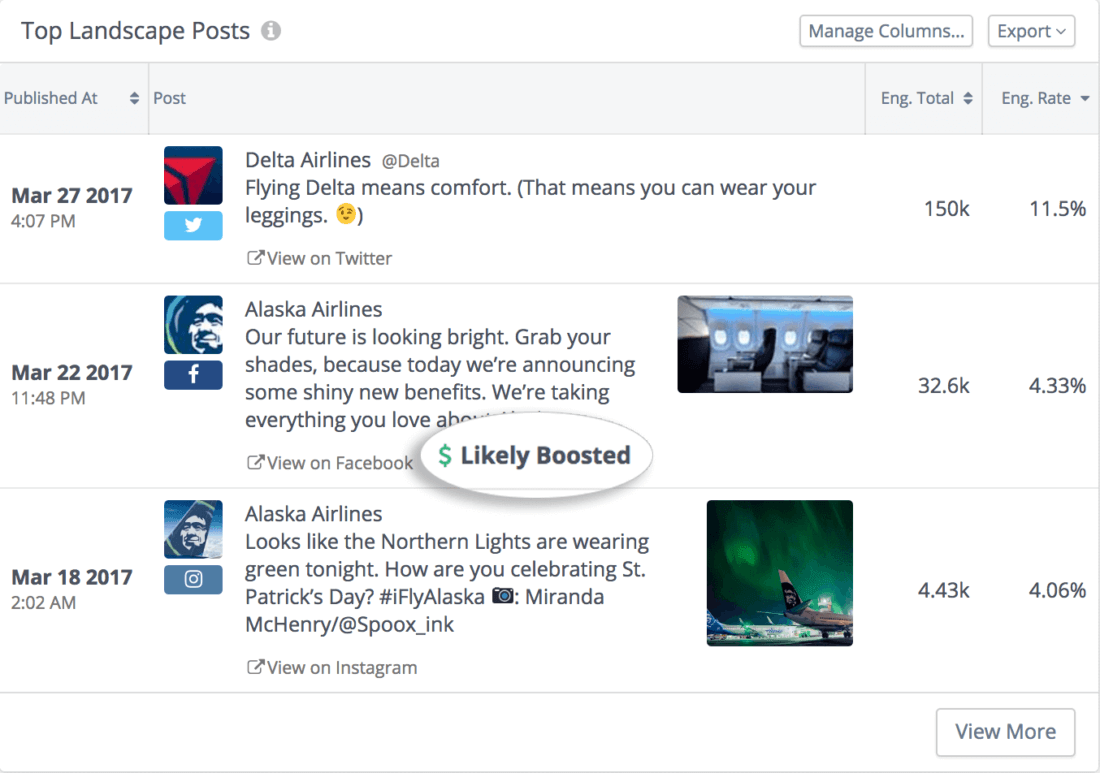 Rival IQ is a social media analytics platform which can provide analysis of your accounts on Facebook, Instagram, Twitter, YouTube, and Pinterest, and tell you which of your posts are performing best, along with overall engagement and follower growth rates.
This extends to promoted posts as well - and, of course, all these same metrics apply to your competitors. Moreover, if a competitors' boosted post sees significant success, you can set up alerts to let you know of such.
RivalIQ is also great for content discovery - it highlights the best performing hashtags in your industry to help you focus your efforts. You also see the hashtags your competitors are using, and how well they're working for them.
All the data you get is conveniently consolidated so that you can filter to see how your clients and their competitors are performing. Reports are customized and automated - you can track each client's digital performance in one place and the tool will deliver all the key information when you want it.
RivalIQ can also be integrated with Google Analytics to help you understand where your traffic is coming from.
Pricing: Agency plan starts at $349 per month. You can sign up for a 14-day trial.
6. Sotrender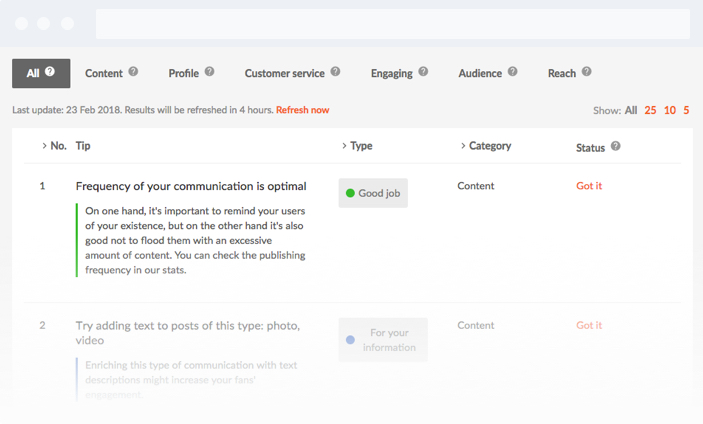 Sotrender is a social media analytics tool which can cover Twitter, Facebook, Instagram, and YouTube.
Much like RivalIQ, Sotrender can provide detailed overviews of how your profiles are performing, along with those of your competitors. You can get insights into active users by hour, by dates, community ranking, reach metrics, the number of fans, user activities, and the top performing posts.
Sotrender can also display demographic and location data for your audiences, along with other useful insights. PDF and CSV reports show all of this data. You can set up a recurring report and choose what kind of metrics are included.
Sotrender also enables team management - the tool can display responses rate, response times, and a metric called 'Interactivity Index' for internal management.
Pricing: Pricing depends on the number of clients. Bronze (2 brands) is €45/mo, Silver (5 brands) is €100/mo, Gold (10 brands) is €180/mo, and Platinium (20 brands) is €350/mo. You can sign up for a free 14-day trial.
7. Sendible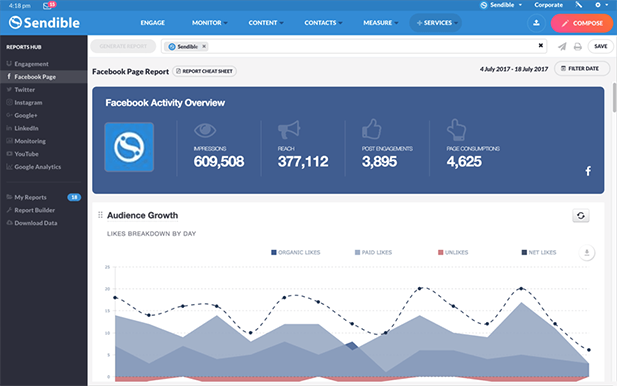 Sendible is a social media management tool made specifically for agencies. It enables you to create a unified social inbox for all of the brands you're working with, so that you can manage every social media account from one place.
Sendible makes it easy to work as a team - you can create tasks, see your team's posting activity on the calendar, and approve other people's content. You can also track your team's performance by measuring response times.
Sendible has social media monitoring, publishing, and analytics features. You also get content recommendations - the tool can analyze your social media profiles to suggest the best content for your specific audience.
Reports are easily generated, fully customizable, and can be automated to regularly update your clients. They can include growth and engagement stats, data on sent and received messages, demographics, top content by types, trends and influencers for each social network.
Sendible can also be integrated with Google Analytics to help provide more insight into how your social media and your web traffic are interconnected.
Pricing: Sendible offers two pricing plans for agencies: it's $199 per month for growing agencies and $299 per month for large teams. You can sign up for a free 30-day trial.
Conclusion
Choosing a tool for an agency isn't an easy task - particularly because it's often impossible to get away with just one tool.
As all the agency-level tools include many complicated features, it's also important to consider how easy it would be for you and your teammates to start using the tool to its full capacity, how intuitive the tool is, and how good the support team behind each is.
It might take more than one try to decide on the tool/s you'll use for your agency, but with a wealth of great software available, you'll no doubt find the perfect one(s) for your process.