Touted as the web's second largest search engine, YouTube occupies a unique space within the social media ecosystem.
While some would categorize YouTube as a social media platform due to the ability to comment, the true value of the platform lives in the massive amount of content it hosts and serves up to searchers.
I've personally been very interested in the explosion of activity that YouTube has seen from users of my generation exposing their children to the platform. When I was young, my parents would pop in VHS tapes to keep us entertained, but today's parents are letting their kids watch videos on YouTube, and those kids are growing up to be consumers with the platform already ingrained in their digital behaviors.
If you 've been neglecting YouTube as a platform, or as an advertising opportunity, it's time to take it seriously.
YouTube Stats
But don't just take my word for it - here are some eyebrow-raising YouTube statistics:
9 billion logged-in users visit YouTube every month, and those users aggregate a lot of data
96% of 10-24 year-old American internet users use YouTube - these users are growing up with the platform and continuing to use it into adulthood
All age groups increased their usage of YouTube in 2018
YouTube reaches more American 18-34 year-olds than any TV network.
70% of Millennial YouTube users watched a video to learn how to do something new in 2018
Hopefully I have your attention now. Even if you aren't a video creator, you can still tap into the activity on the platform through YouTube's advertising options.
Since YouTube reaches more adults with disposable incomes than any TV network, it might not be a bad idea to embrace this opportunity - but before getting started, you need to understand the various YouTube ad options you have at your disposal.
YouTube Advertising Options
Display Ads - These ads appear to the right of the feature video, and above the video suggestions list. For larger players, this ad may appear below the player.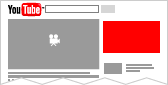 Overlay Ads - These ads are semi-transparent overlays which appear on the lower 20% portion of the video a user is watching.
Skippable Video Ads - Skippable video ads allow viewers to skip ads after 5 seconds. These ads are inserted before, during, or after the main video. If you use this option, you may see a mix of skippable and bumper ads play back to back at times.
Non-Skippable Video Ads - Non-skippable video ads must be watched to completion before the desired video can be viewed. These ads can appear before, during, or after the main video a user intends to watch.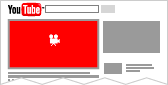 Bumper Ads - These are non-skippable video ads of up to 6 seconds in length which have to be watched before the desired video can be viewed. If you turn on this option, you may see a mix of skippable and bumper ads play back to back at times.
Sponsored Cards - Sponsored cards display content that may be relevant to the viewers' video, such as products featured in the video. Viewers will see a teaser for the card for a few seconds. They can also click the icon in the top right corner of the video to browse the cards if they so choose.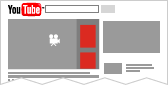 Conclusion
When you pair the amount of data that YouTube (and parent company Google) has with the available YouTube advertising options, you have a powerful way to target high-intent consumers right where they're learning new things or being entertained.
Don't sleep on YouTube advertising, it's only going to get more competitive.