Facebook's News Feed algorithm has made it increasingly difficult for brands to get their content in front of their target audiences on the platform. To counteract this, smart brands now allocate budget for promoting content to ensure their Facebook posts reach the right people at the right time.
Thus, promoting content has become a regular activity for brands with evolved Facebook posting strategies - but while it's easy to hit 'Boost' on your Facebook posts, boosting is likely not the best option to drive true business value for your brand?
Before you close out of this blog, hear me out.
When you Boost a post on Facebook, the post is delivered to the News Feeds of users who fit within your general targeting parameters. As noted, clicking the little blue "Boost" button next to a post on your Facebook business Page is easy, and it will see your content reach more people than it would have organically. But the truth is that, unless you're lucky, the majority of those extra viewers aren't likely to respond to your content in a way that'll make a significant impact on your business.
In a sense, by simply boosting posts, you're not leveraging the full power of Facebook's advertising system.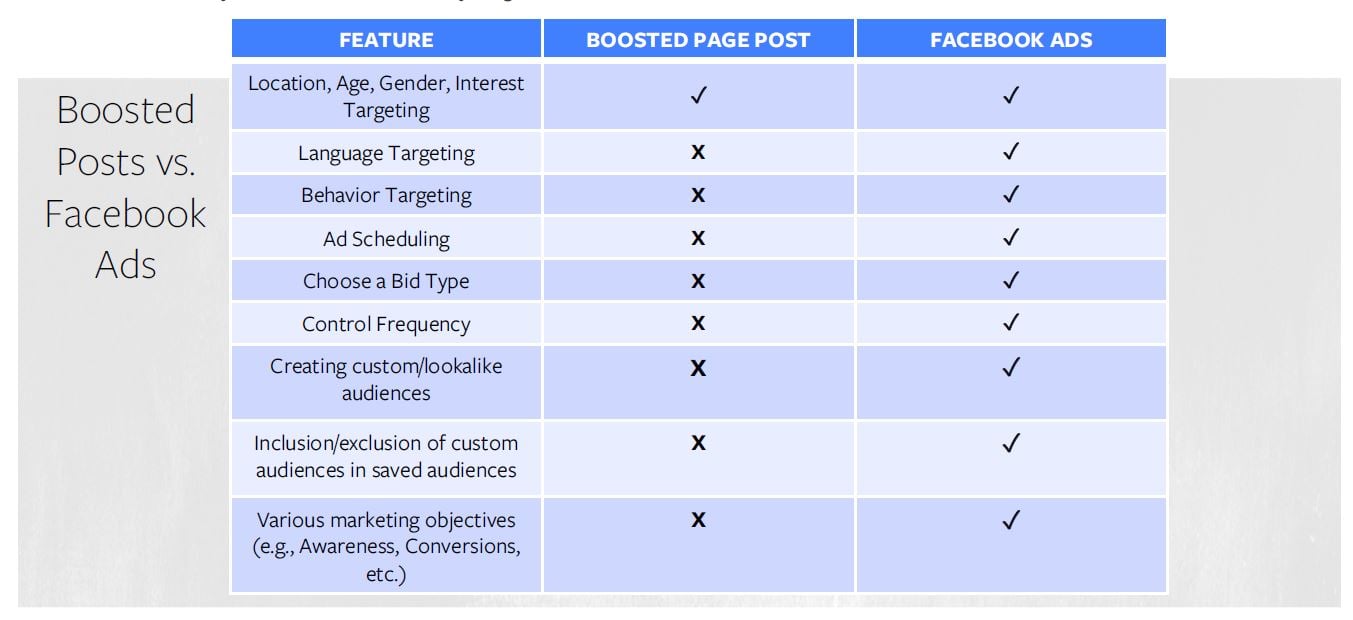 Do THIS, not THAT
Instead of boosting your Facebook posts, consider creating promoted posts using Facebook's Ads Manager. Through Ads Manager, you'll be able to expand your content's reach, while also capitalizing on better targeting, more features, and higher contention for space via Facebook's ad auction.
Taking the extra step to promote posts through Ads Manager can go a long way in terms of results, so I highly recommend it.
How to Promote a Post on Facebook Using Ad Manager
Setting up a promoted post campaign in Facebook's Ads Manager is simple. Follow these six quick and easy steps:
In Ads Manager, click the green "create" button
Select either "Brand Awareness" or "Engagement" as an objective (both work well, but in different ways)
Choose your targeting parameters to ensure your content reaches your target audience.
Click the drop-down menu to designate a pre-existing post.
Launch the campaign
Repeat this process until you've promoted all applicable posts.
This process does require more time than simply boosting your posts, however based on my experience, this method generates better results, at a more cost-effective rate.
Go ahead and put it to the test - I'm confident you'll appreciate learning how to promote a post on Facebook using the platform's Ads Manager tool.