April was a month of big decisions for social media companies, especially for Facebook and Instagram. The most talked about event was undoubtedly the Facebook F8 developer conference and the keynote speech by Mark Zuckerberg in which he openly announced the new direction the company is taking. And even though Facebook stole most of the headlines (so much so that I almost named this post "Facebook round-up") other social media networks announced some exciting updates and controversial decisions as well. 
Without further ado, let's dive into all the news that could drastically change social media marketing. 
Facebook
Revolutionary redesign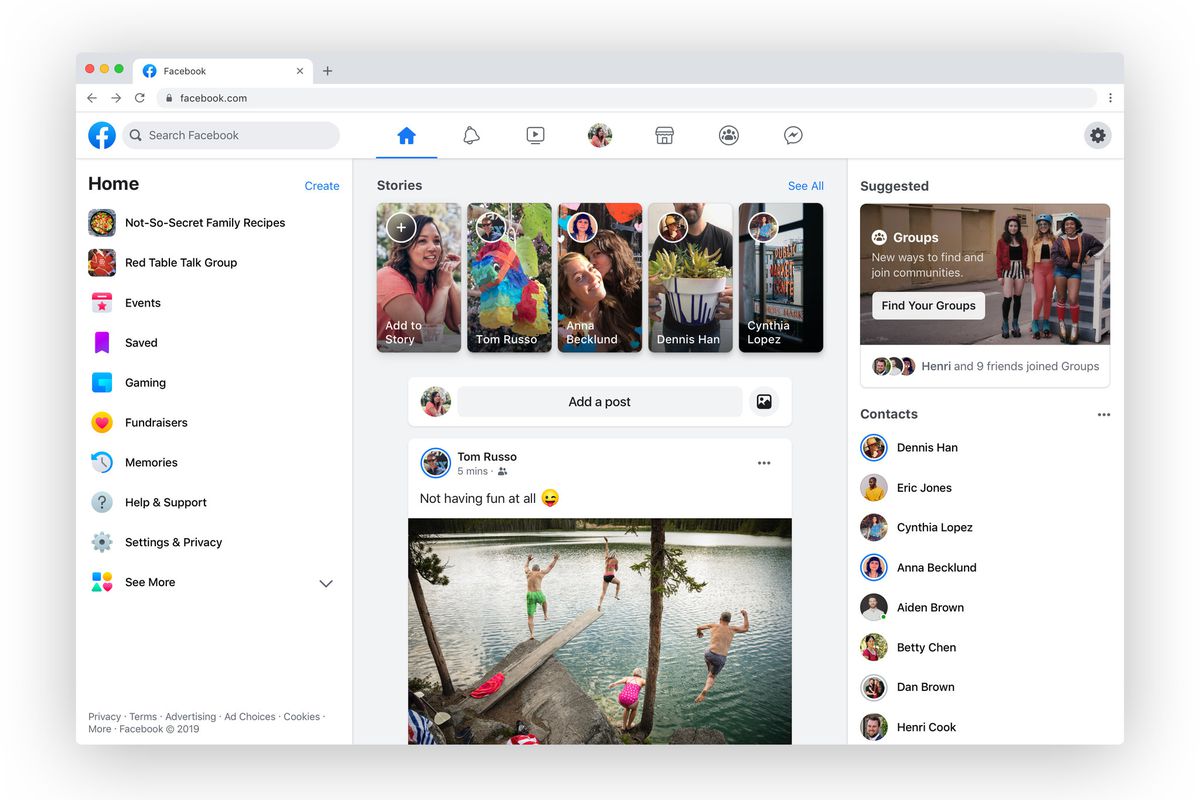 One of the main announcements at the F8 conference was the radical redesign of Facebook's feed which will affect both the mobile app and the desktop version. The new version will be the biggest change to Facebook's design in 5 years. 
Many people predicted Facebook's shift to focus on private communities long before it was announced at the conference, and this redesign is the direct result of this shift. In his speech, Mark Zuckerberg emphasized the need for intimacy and privacy, turning from the idea of "social media town square" to a "social media living room." The new interface places the focus on Groups, a more private aspect of Facebook compared to public Pages. Events will have a more prominent place in the new version as well, with a new Events tab sitting right next to the Groups tab.
These changes mark the transition which Facebook is eager to make to the "privacy-focused communications platform". It also means that the News Feed will play a much less important role and may be abandoned altogether. One of the primary architects of the News Feed, Chris Cox, left the company last month after Zuckerberg announced his new philosophy and planned direction for the company, helping signal that the News Feed era is officially over.
Considering how much controversy the News Feed caused in the last few years, the decision to minimize its role is understandable. However, it raises the question: what will be the new ways to advertise on the platform without the News Feed? 
Facebook is testing to turn News Feed into Story Feed pic.twitter.com/83H7VWcgmD
— Jane Manchun Wong (@wongmjane) April 15, 2019
Changes to Messenger: lighter app and new Business Tools.
As reported before, Facebook is planning to integrate its messaging platforms, WhatsApp, Messenger, and Instagram into one messaging mega-app. But for now, they are working on making Messenger better for users and brands alike. 
The changes announced at the F8 conference aim to make Messenger more accessible: it will take up less space on your phone and will focus on chatting with the people you actually want to talk to. The app will highlight "closest friends", allow you to choose "current status", and introduce video co-watching capabilities. In addition to that, Facebook is building a desktop app for Microsoft and MacOS.
As for the update that will be relevant to brands, Facebook gives you more tools to convert in Messenger. Here are some of the new features it will introduce:
Booking appointments through Messenger
Lead generation templates for Messenger bots
Easy authentication
As described in this Verge article, Facebook has a very specific vision to turn Messenger into a social media platform in its own right. Perhaps, even the News Feed will be resurrected on Messenger in the end. According to Asha Sharma, who leads Messenger's consumer products:
"The opportunity that Messenger has is, we are building a social network around messaging — not the other way around. In messaging, you communicate mostly with five friends. If you can build experiences on top those conversations that help you share more and spend real quality time together, that's awesome."  
She showed the Verge's journalist the prototype of the new app, where the People tab with your contacts is replaced by content shared by close friends. 
"It's a space where I can share into small groups and the people I care most about."
Even though Facebook stated that they are focusing on intimacy and privacy, the new direction for the Messenger app shows a lot of potential for commercial use by brands. At the same conference, it was announced that another messaging app owned by Facebook, WhatsApp Business, will turn into a full-blown e-commerce platform. It will allow brands to showcase Product Catalog and accept payments right in the app. 
The fact that people associate messaging with authentic human contact could also be beneficial to brands which want to seem more genuine. 
Push for communication
In the vein of the intimacy-focused direction, Facebook really wants you to communicate with people on their platform. And not just the people you know.
Announced at the F8 conference, the Meet New Friends feature will help you discover people in your communities to befriend. It will connect strangers that have something in common (for example, a school or an employer). 
The experiment with Facebook Dating, which was launched last year, seems to be going smoothly. Facebook is planning to roll it out in more countries and add several new features, the most 'exciting' of which is Secret Crush: it lets you know which of your friends could be interested in you romantically using Tinder's "matching" principle. If you both indicate that you like each other, Facebook Dating will connect you, but if the feeling is not mutual, the other person will never find out about your interest. 
Facebook: The future is private

Also Facebook: Please list all your friends you want to sleep with https://t.co/VZiq2a9PCQ
— David Pierce (@pierce) April 30, 2019
Twitter
Limiting the number of accounts users can follow to fight platform manipulation
Follow, unfollow, follow, unfollow. Who does that? Spammers. So we're changing the number of accounts you can follow each day from 1,000 to 400. Don't worry, you'll be just fine.
— Twitter Safety (@TwitterSafety) April 8, 2019
Twitter has already taken some steps to prevent follow churn by banning several social media apps which enable it from the platform. Now they are going even further and limiting the number of users one can follow to 400 a day. As it says in the official tweet, this is done in order to fight spammers who often use manipulative tactics to gain more followers: they mass-follow people, wait till they follow in response, and then unfollow them. Or worse, they keep following and unfollowing so you get spammed with notifications. 
However, some people still think that 400 people a day is still too many. I wonder if there will be more actions and stricter limits to fight spamming in the future. 
Introducing a "hide replies" feature
5/8 We already see people trying keep their conversations healthy by using block, mute, and report, but these tools don't always address the issue. Block and mute only change the experience of the blocker, and report only works for the content that violates our policies.
— Michelle Yasmeen Haq (@thechelleshock) February 28, 2019
Earlier this year social media hacker Jane Manchun Wong discovered the new Hide replies feature which gives the author of the original tweet the power to "hide" the unwanted replies from themselves and other users. You still will be able to see the tweets, however, you will need to click through menu settings to do it. The feature is set to launch in June.
Twitter's inability to handle hate speech and abuse on the platforms is infamous. Twitter has been trying to improve its reporting features and make the process behind evaluating whether a tweet breaks Twitter guidelines or not more transparent. Last month they also implied that they will be focusing more on identifying abuse with the help of technology. The platform will try to deal with abusive tweets before they are reported by users. As per Twitter's blog post:
The same technology we use to track spam, platform manipulation and other rule violations is helping us flag abusive Tweets to our team for review. With our focus on reviewing this type of content, we've also expanded our teams in key areas and geographies so we can stay ahead and work quickly to keep people safe. Reports give us valuable context and a strong signal that we should review content, but we've needed to do more and though still early on, this work is showing promise.
Verification scandal
Possibly for the first time in our round-ups, Facebook didn't get into much trouble last month. But we couldn't do without controversy, so Twitter bravely stepped in with one of the most trivial scandals in the industry. Turns out that despite the official notice that Twitter stopped verification process, it still verifies accounts of those who have personal connections with the company.
The company has said little publicly about verification, which it suspended in 2017 following backlash over its verification of a white supremacist. However, Mashable discovered that more than 10,000 users were verified since then. Some, such as the survivors of the Parkland shooting, have been well publicized. But many more have flown under the radar, such as Tim and Marcia Dorsey, the parents of Twitter's CEO, both of whom got a blue check at some point in the last four months.
In the official statement, Twitter confirmed that they still verify selected accounts, but didn't give any specifics on how they select these accounts. However, we're not the ones to complain here, because Awario also got verified on Twitter this month.
Instagram
Instagram tests hiding like count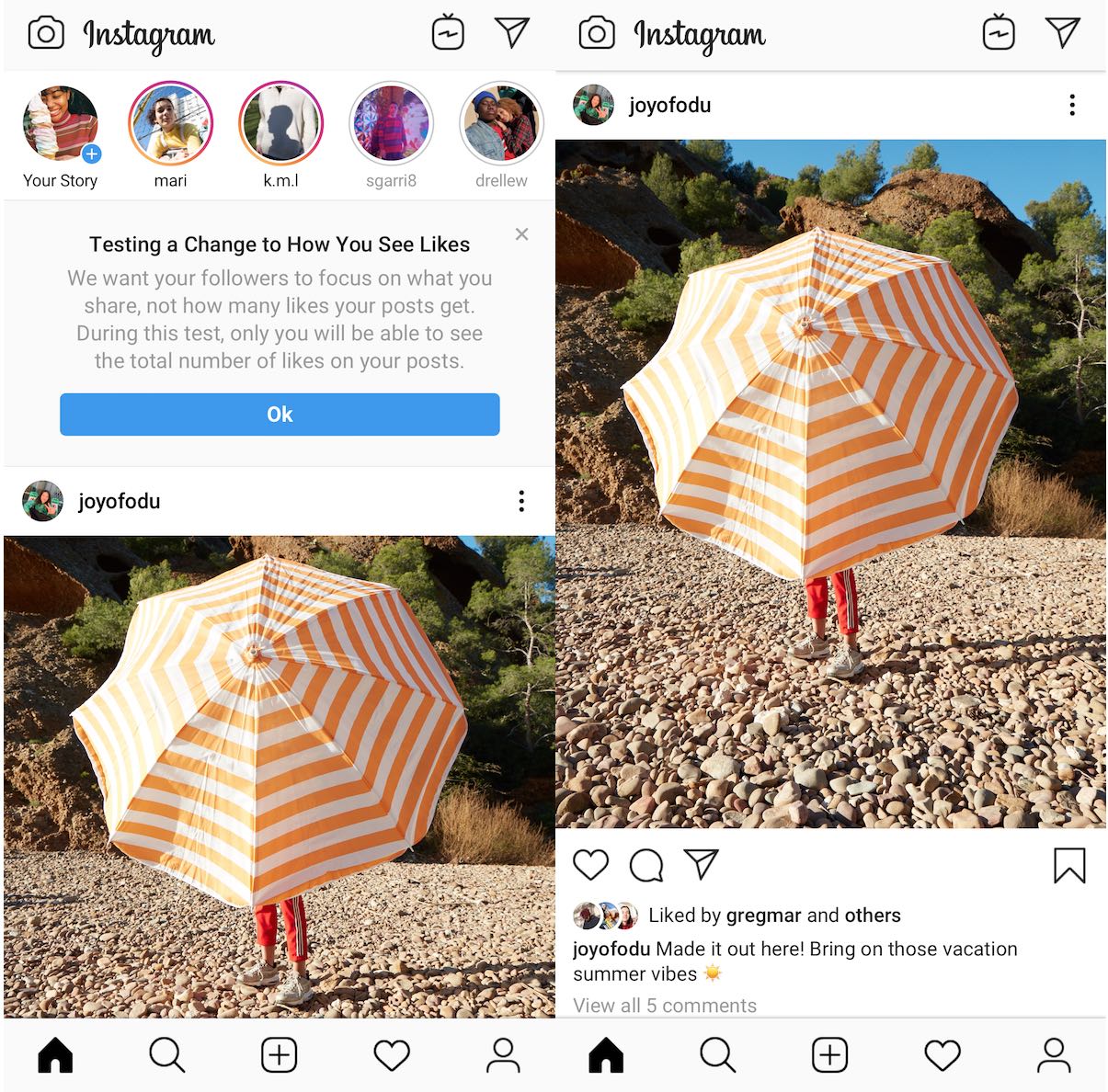 If you're using Instagram in Canada, chances are you can no longer see how many people liked pictures in your feed. Although the like count will still impact how algorithm ranks a post in the feed, you will only be able to see who liked the post, but not the number of likes in total. However, this only relates to posts by other people on your timeline — you still see the like count for your own posts. 
The test was announced at the F8 conference and is a part of a larger effort to reduce the negative impact on mental health social media have. Instagram wants its users to post more authentic content and "focus on the videos and photos they share, not how many likes they get", and in doing so, battle the low self-esteem issues users might get when they only see thoroughly curated images and videos. 
The platform is also taking some steps to battle bullying, including testing: 
A new "nudge" feature which warns users if they're about to comment something abusive.
"Away Mode" which allows users to take a break from the app when needed.
"Manage Interactions" feature which allows users to customize the way specific users interact with their profile: let's say you don't want to block somebody completely, but you don't want them to comment on your posts — you can prevent them from doing it with this features. 
All these features are still in testing, but if they manage to reduce the negative effect on mental health, they are likely to be rolled out worldwide.
Getting rid of the like count could affect Instagram marketing since some influencers rely on this metric to motivate paid collaboration with brands. In the commentary to TechCrunch, the Instagram spokesperson said: "We understand that this is important for many creators, and while this test is in exploratory stages, we are thinking through ways for them to communicate value to their brand partners."
Introducing Creator account
Speaking about influencers, Instagram started the limited rollout of the Creator profiles, which were designed specifically with influencers in mind. The Creator accounts are similar to Business accounts, but they also have some specific features. Instagram states that Creator profiles are best suited for "public figures, producers, artists, and influencers".
As spotted before by Jane Manchun Wong, the account includes four new features.
Instagram Creator Studio will enable creators to see their statistics from the desktop. This data will give influencers insights to daily and weekly analytics, and will work across posts, IGTV, and Instagram Stories. Influencers will also have access to data around when their followers are online, growth insights, and new discovery data. Moreover, Instagram Creator growth metrics will give users insights into ways they can better reach their followers. It will also show the follow/unfollow data to inform users on the content their audience prefers.
Simplified messaging will help influencers stay on top of the crazy amount of DMs they get every day. They will be able to rank and filter messages by relevance, time, and authors.
Creators will also be able to choose how they want to be contacted through flexible profile controls. This feature will give users the ability to quickly designate their preferred method of contact on their profile.
Shoppable posts will become available for Creator accounts. This could potentially change the relationship between influencers and brands since from now on the latter will be able to request the actual conversion rate to prove the efficiency of an influencer campaign.
The Creator account will greatly affect influencer marketing since influencers will now have much more data to use to guide their growth and report to collaborators. 
According to the New York Times, the new feature will initially roll out to 55 creator accounts working with 23 different brands. While there is no news on when the feature will be available to everyone, it's likely that we will get access to it by the end of the year.
New Stories stickers
At the F8 conference, Instagram introduced the Donation sticker for Stories. The sticker lets users donate money to the non-profits they want to support. If you use it, you can see how much you've raised by swiping up on the Story, and the full amount of what you see there will go straight to the non-profit you choose. This option is currently only available in the U.S., but Instagram is working to bring it to more countries.
Another sticker wasn't yet introduced officially but discovered by Jane Manchun Wong. The Chat sticker lets you start a conversation with a person by simply tapping it. There's no ETA for it yet.
LinkedIn 
New post reactions
Aiming to boost engagements, LinkedIn introduces new ways to react to posts. 
According to the blog post announcing the update, the feature was introduced in response to user requests. When designing the reactions, LinkedIn took into account "what people are already talking about to better understand what feedback they wanted to express and receive."
Apart from making it more fun to use LinkedIn in general, this update could help you gain a deeper understanding of how your posts are perceived by the others and what kind of response they evoke. However, it's unclear whether specific reactions will impact the feed algorithm. 
Reactions are starting to roll out now and will be available globally to all members in the coming months in the LinkedIn mobile app and on the web. 
Services section in user profiles
LinkedIn is testing "Services" field in profile, which will pair well with

"Find a Service Provider": https://t.co/u1S7XESx4j pic.twitter.com/cCkE4Ud8C5
— Jane Manchun Wong (@wongmjane) April 25, 2019
Spotted by no other than Jane Manchun Wong, LinkedIn is testing the ability to add the information on the services you supply to your profile. This could potentially be beneficial for freelancers who could use their LinkedIn profiles instead of business websites. Jane also notes that this feature would go well with the "Find a Service Provider" feature she discovered some time ago.
LinkedIn is testing(?) "Find a Service Provider" in post composer pic.twitter.com/oI0DkOVEbE
— Jane Manchun Wong (@wongmjane) March 19, 2019
Pinterest
Optimizing Ad campaigns to conversions
Pinterest is not often a guest in our round-ups, but lately it's been introducing more and more options for businesses to benefit from the platform. Last month, Pinterest announced the new campaign type for Promoted Pins which optimizes them for specific consumer actions, such as online checkouts, increased signups to a mailing list, or filling lead generation forms.  
According to Pinterest, brands who tested out the new campaigns saw an increase in sales: 
Using conversion optimization, brands like Gravity Blankets achieved a 2x increase in sales and a 58% lower cost per acquisition, according to the company. Flaviar, a club for spirits enthusiasts, saw 409% more traffic and an 8x increase in leads from October 2018 compared to the month before when testing conversion optimization.
And that's all the social media news from April that matter to social media marketers. Will you be sad to see the like count go? What do you think about Facebook's brand new world of private social media? Let's discuss in the comments!
A version of this article was first published at the Awario blog.