Analytics is at the core of any marketing strategy, and social media marketing, of course, is no exception. Quite the opposite - digital marketing, with its array of platforms, ad and promotional options might actually require more measurement and analysis than any other marketing activity.
In order to maximize your campaign performance, you need to measure your every effort. As the saying goes - what can't be measured, can't be improved.
For this reason, I've put together a list of powerful social media analytics tools to benefit your campaigns. Used well, these apps will help you clarify how good your social media marketing strategy is, and highlight any problems and tendencies which are impeding your success.
Basically, these tools will give you the numbers you need to develop an effective social media marketing plan. Check them out, and find the right analytics tool for your organization.
1. Awario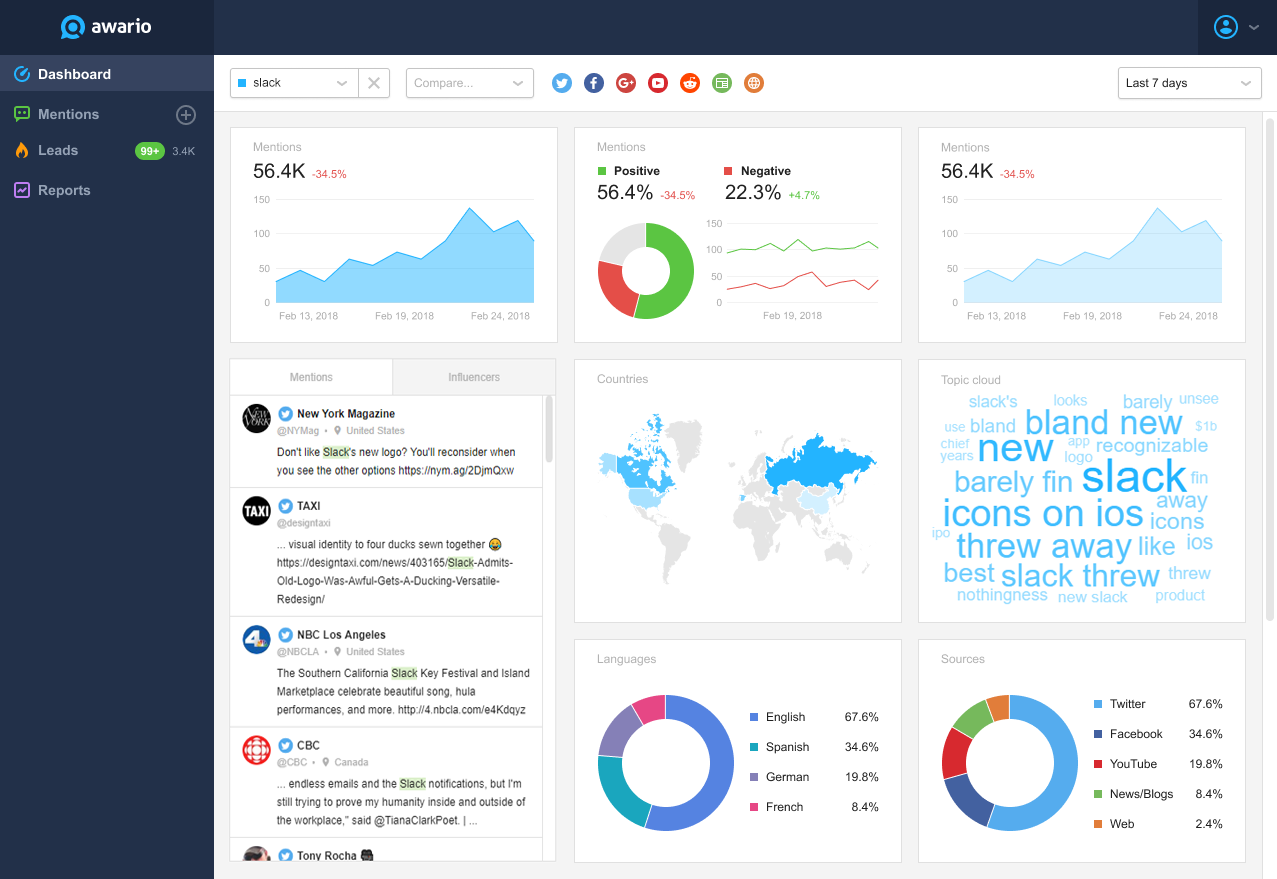 Awario is a social media monitoring tool with powerful analytics elements. The tool analyzes online mentions of your business in order to provide you with statistics on mention growth, reach, a list of mentions' languages and locations, their sentiment and where on the web they're occurring.
Awario also analyzes people on social media who've used your keywords - be they your brand keywords or your industry keywords - and displays a list of social media influencers in your niche.
And by creating alerts (e.g., one for your brand and another two for your main competitors), you can get a step-by-step comparison of your social media performance against that of your competition. Awario can also display a "share of voice" graph, which shows how much 'online buzz' your business is generating by comparison to your main competitors.
Price: Starts at $29/mo. Sign up for a free 14-day trial here.
2. Snaplytics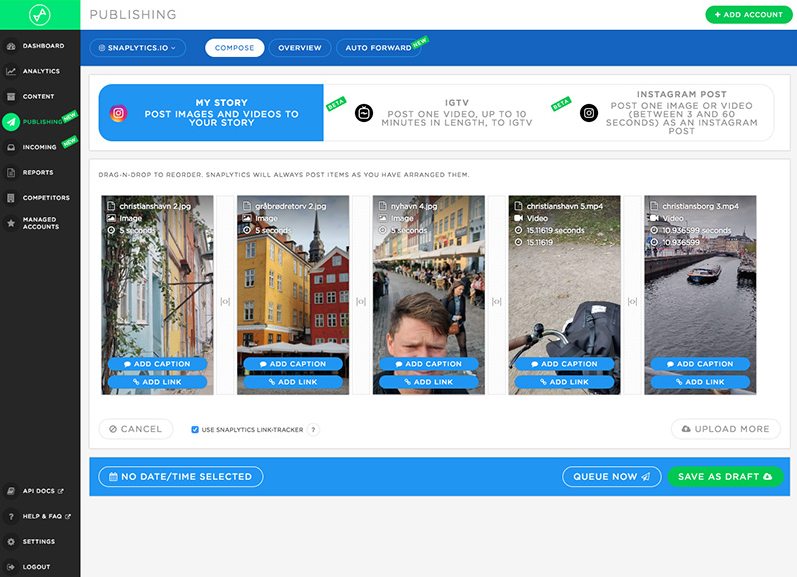 Snaplytics provides detailed performance data for Instagram and Snapchat, including insights on Stories and overall follower growth. With Snaplytics, you can easily see which acquisition methods work best, and what causes spikes and falls in engagement levels, helping to optimize your platform approach.
You can also create custom reports and export data in a CSV file.
Price: Contact for pricing or start a free 14-day trial here.
3. Squarelovin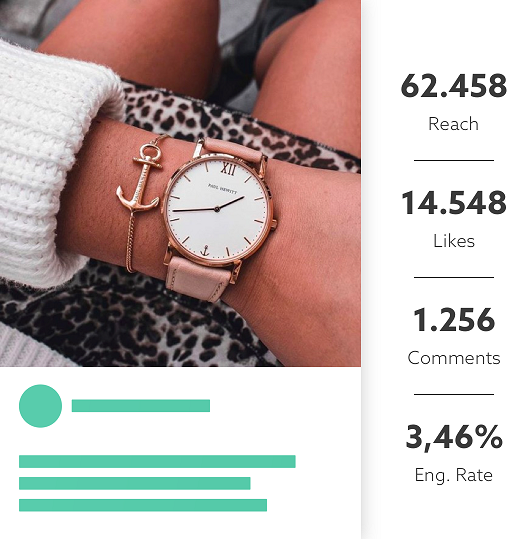 Squarelovin is an analytics tool made specifically for Instagram - the tool tracks likes and followers, reviews post performance and measures overall profile engagement. It also highlights the best times to post, best filters to use and hashtags, along with a history of your posts, broken down by hour. You can also get more insight into your audience's preferences and interests.
Price: Freemium, create a free account here.
4. Rival IQ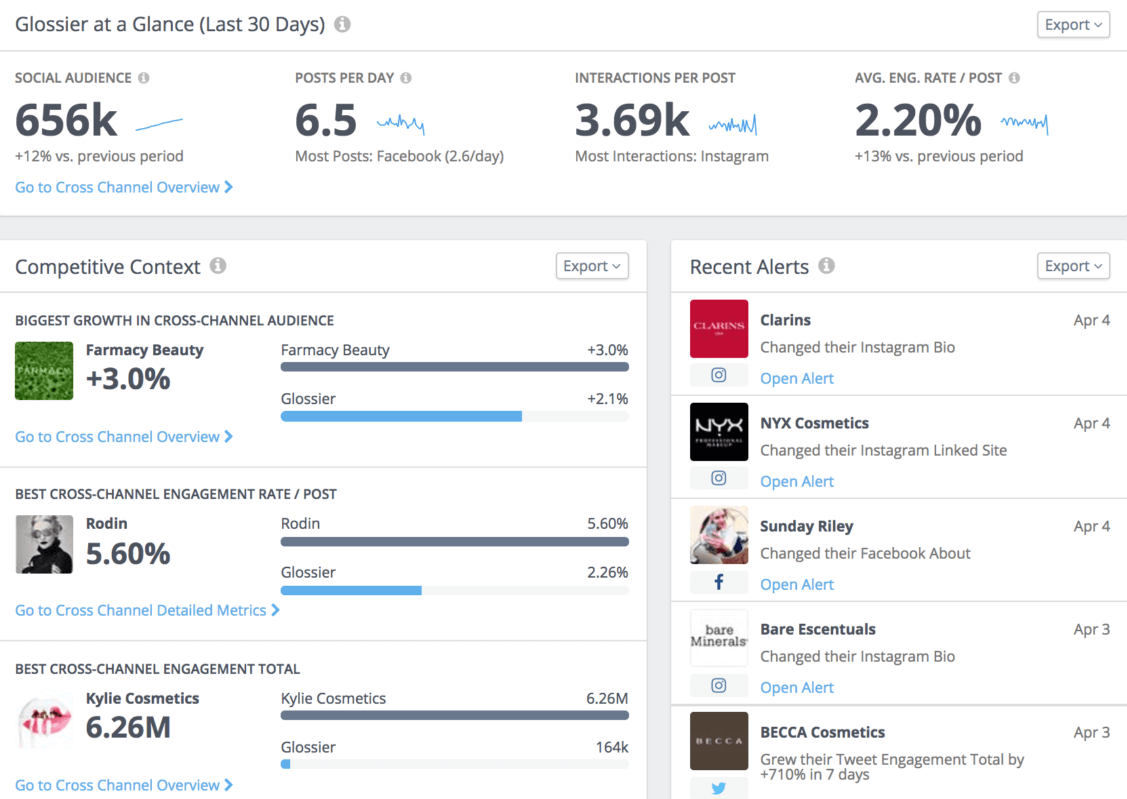 Rival IQ analyzes posts, likes, and comments from all the major social media channels, including Facebook, Instagram, Twitter, and Pinterest. The platform is integrated with Google Analytics, enabling it to display a comprehensive picture of how your customers get to you, and what they do when they arrive.
Rival IQ analyzes Facebook and Instagram ads separately, to help ensure that you're getting the most out of them, while it can also provide competitive insight on the same, so that you can see what's working for your competition, and learn from their tactics. For Instagram, the tool shows demographics, unfollowers and active times for your audience.
You can also set up automatic reports that will arrive regularly in your inbox.
Price: Starts at $199/mo. Start your free 14-day trial here.
5. Union Metrics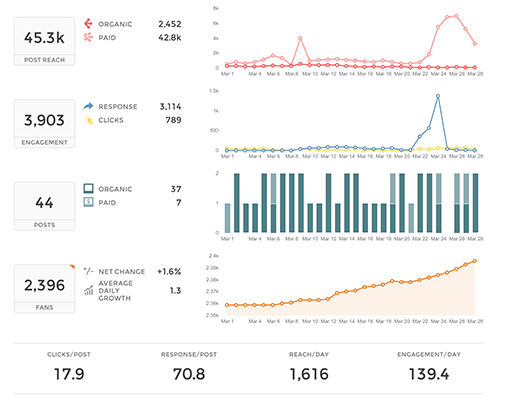 Union Metrics monitors Twitter, Facebook, and Instagram, and analyzes a whole range of metrics. It provides insight into which content is performing best across each platform, the times when your audience is most active throughout the day, and who your key influencers are. On top of that, Union Metrics also tracks relevant trends to give you ideas for new content. In the most expensive plan, there are also language and geo reporting options, as well as full data export.
The tool also offers competitor analysis, and can show you comparative share of voice within your niche.
Price: Starts at $49/mo. Request a trial here.
6. Keyhole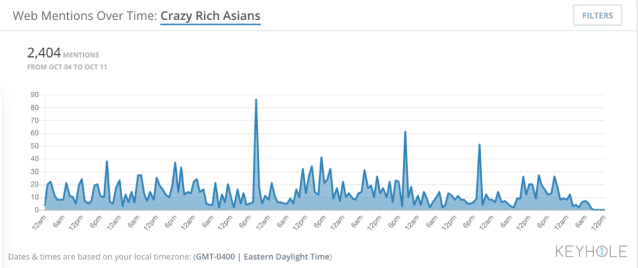 Keyhole is a social media monitoring tool which also provides deep analytics for Twitter and Instagram. The app provides access to a range of metrics, all in visually appealing graphs - at a glance, for example, you can learn the total number of posts which include your target keywords, and how mention volume has changed over time. Keyhole also displays engagement data, sentiment, hashtag usage trends, and reach stats.
The tool also provides insights into influencers and trends within your niche, as well as audience demographics, languages and locations.
Price: Starts at $199/mo. You can sign up for a free 7-day trial here.
7. Hootsuite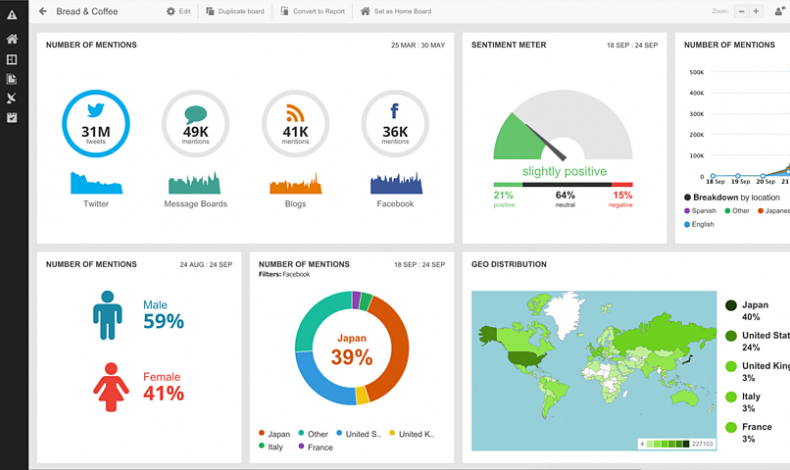 Hootsuite is one of the most popular social media management tools, and analytics is a big part of what the platform provides. Through Hootsuite's various tools, you can get key metrics from Twitter, Facebook, and Instagram, including audience and post insights and performance data, all presented in easy to use graphs and charts.
In addition to this, Hootsuite also provides helpful tracking and performance insights for larger social teams - Hootsuite's team management tools provide data on various elements, including how long it takes for mentions, comments and private messages to be responded to and resolved.
All reports by Hootsuite are customizable, and all the available metrics are easy to export and share with the team members and/or clients.
Price: Starts at $19/mo. You can sign up for a free 30-day trial here.
8. Sprout Social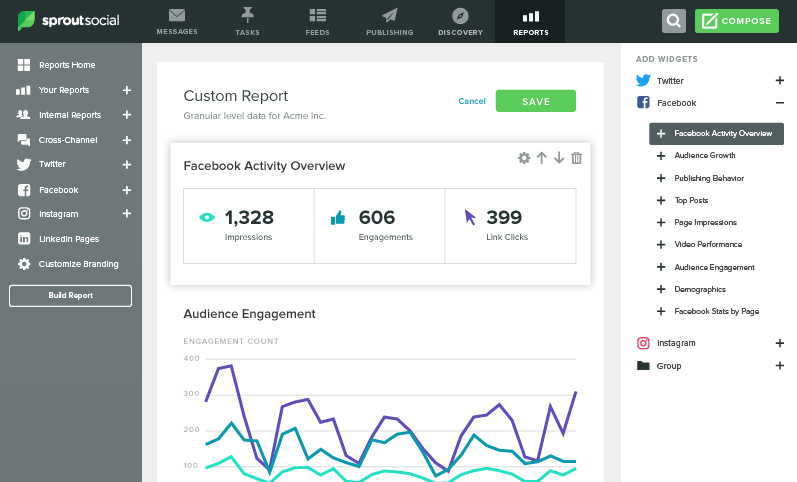 Much like Hootsuite, Sprout Social is a social media management platform which provides its users with helpful analytics. The tool measures performance and engagement across Facebook, Twitter, Instagram and LinkedIn, and compares your data to that of your competitors. Sprout can also identify your best performing content, and show you how your ads are performing by comparing paid versus organic impressions and fans gained.
Recently, Sprout also acquired a social analytics firm Simply Measured, making its analytics component more robust.
Price: Starts at $99/mo. You can sign up for a free 30-day trial here.
9. Tailwind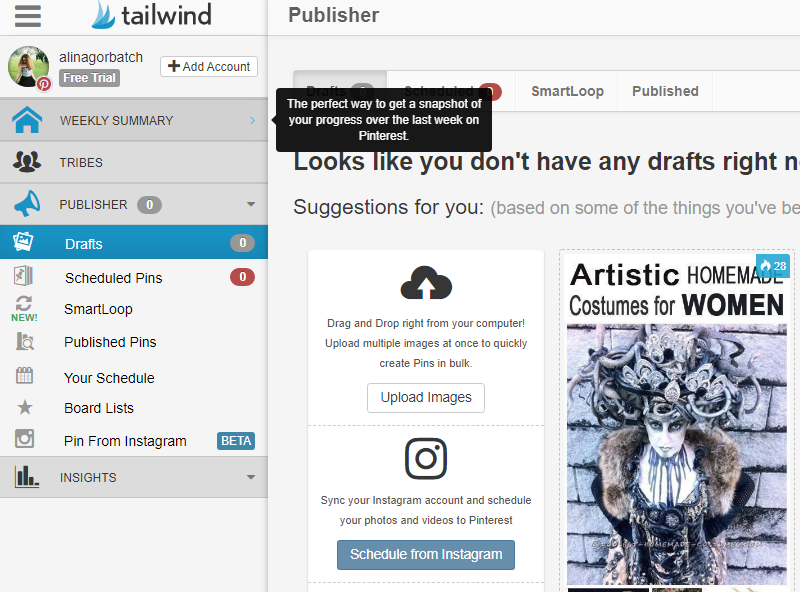 Tailwind is a management and analytics tool for Pinterest and Instagram - Tailwind enables you to track followers, boards, repins, likes and comments. The tool also provides insight into audience engagement, including when your followers are most active, helping to optimize performance. The app also analyzes trends, ad revenue and traffic from Pinterest with an easy Google Analytics integration.
Price: Starts at $9.99/mo. You can try the tool for free by signing up with Instagram or Pinterest.
10. Sotrender
Sotrender is a powerful social media analytics tool which highlights where conversations about your brand take place, which content performs best and how your audience engages with each. The tool covers Twitter, Facebook, Instagram, and YouTube, and it analyzes competitors' performance as well, making it easy for you to compare your results.
Based on the performed analysis, the tool also provides tips on what to improve in your marketing strategy.
Price: Starts at €49/mo. You can sign up for a 14-day free trial here.
11. Wiselytics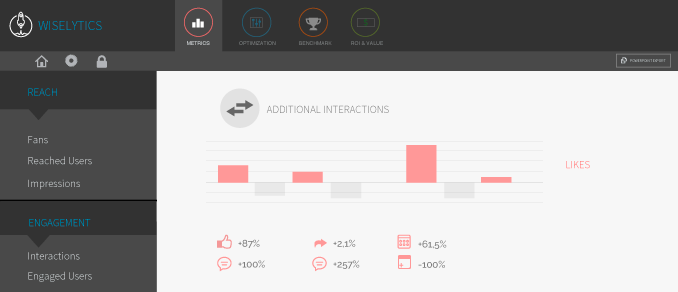 Wiselytics is a social media analytics platform that offers loads of information for free. It covers Facebook and Twitter only, but it displays all the key metrics for these two platforms, including reach, engagement, and amplification over time. It provides the same for competitors, and can identify the topics that are most popular with your audience.
Wiselytics generates editable PowerPoint reports in just one click in one of six languages.
Price: Freemium, create a free account here.
12. Socialbakers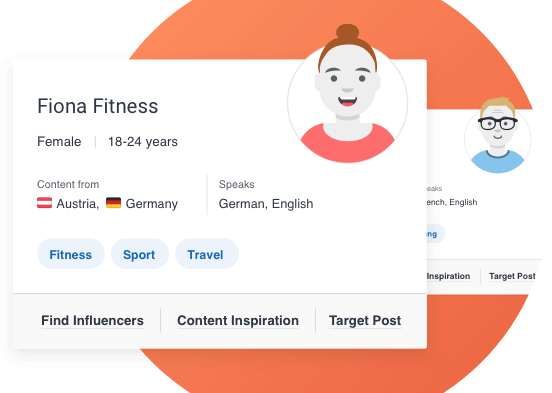 Socialbakers analyzes your audience's interests, the content that performs best, finds social media influencers, monitors mentions of your brand and measures the sentiment behind the mentions. Based on the data it gathers, Socialbakers tells you who your buying personas are.
In the paid version, Socialbakers covers Facebook, Twitter, YouTube, LinkedIn, Instagram, Vkontake, and Pinterest. The tool lets you export data in all possible formats (PPT, CSV, PDF, PNG) and create custom reports.
Price: Price on request, choose your plan & try for free here.
Conclusion
As you can see, there are plenty of social media analytics tools to choose from. I encourage you to try as many as possible - thankfully, most of them have a free trial - and choose the ones that are best for your business. Your choice will depend on your budget, your preferred social platforms, and of course, your goals.
How much stats can you handle? How much do you need to create an ultimate social media marketing strategy? Only you can tell.