One way to build your brand on LinkedIn is by publishing original and useful content that helps to establish your professional credibility. 
But the question most people have is, "What content should we publish on LinkedIn?"
If you're using the LinkedIn Sales Navigator, it's safe to already assume that you're prospecting and using the available research tools to maximize your social selling efforts.
In this post, I'll show you how to use Sales Navigator to create more relevant content for your LinkedIn network - which will see you rewarded with a lot of engagement.
1. Go to the Sales Navigator >> List >> My Network
This will take you to the list of your LinkedIn network - by default, the list will is filtered by first-degree connections.
2. Pay attention to the categories on top of the list
You'll see the following:
Total results – This includes all of your first-degree connections
Changed jobs in past 90 days – Your connections who have recently taken new roles
Mentioned in news in past 30 days – Those who've been mentioned in the news
Posted on LinkedIn in past 30 days – Those who've been active on LinkedIn in the last month
Share experiences with you – Either you have common connections or you belong to the same groups
Leads that follow your company on LinkedIn – Your connections who are also following your LinkedIn company page
3. Filter your LinkedIn connections based on those who "posted on LinkedIn in past 30 days"
Writing for all your connections and followers is less effective than focusing on those that are actively using the platform - these, of course, are the ones who are most likely to see your post once you hit 'publish'.
In the example below, out of more than 2,000 LinkedIn connections, only 654 have posted on LinkedIn in the last 30 days. They're your active LinkedIn connections - and your target readers.
You might be wondering 'what about second-degree connections and the rest of your network?' 
Based on LinkedIn's four-step content distribution system, your content will be shared beyond your first-degree connections only once they've engaged with your content.
Given this, it's critical that you create targeted content that your first-degree connections will find relevant, which will result in more people seeing it in their feeds.
4. Click on 'View all filters' and analyze the demographics of your active LinkedIn connections
You have up to 23 filters, but I find these four the most useful: 
Function
Seniority Level
Industry
Geography
Here are my sample results: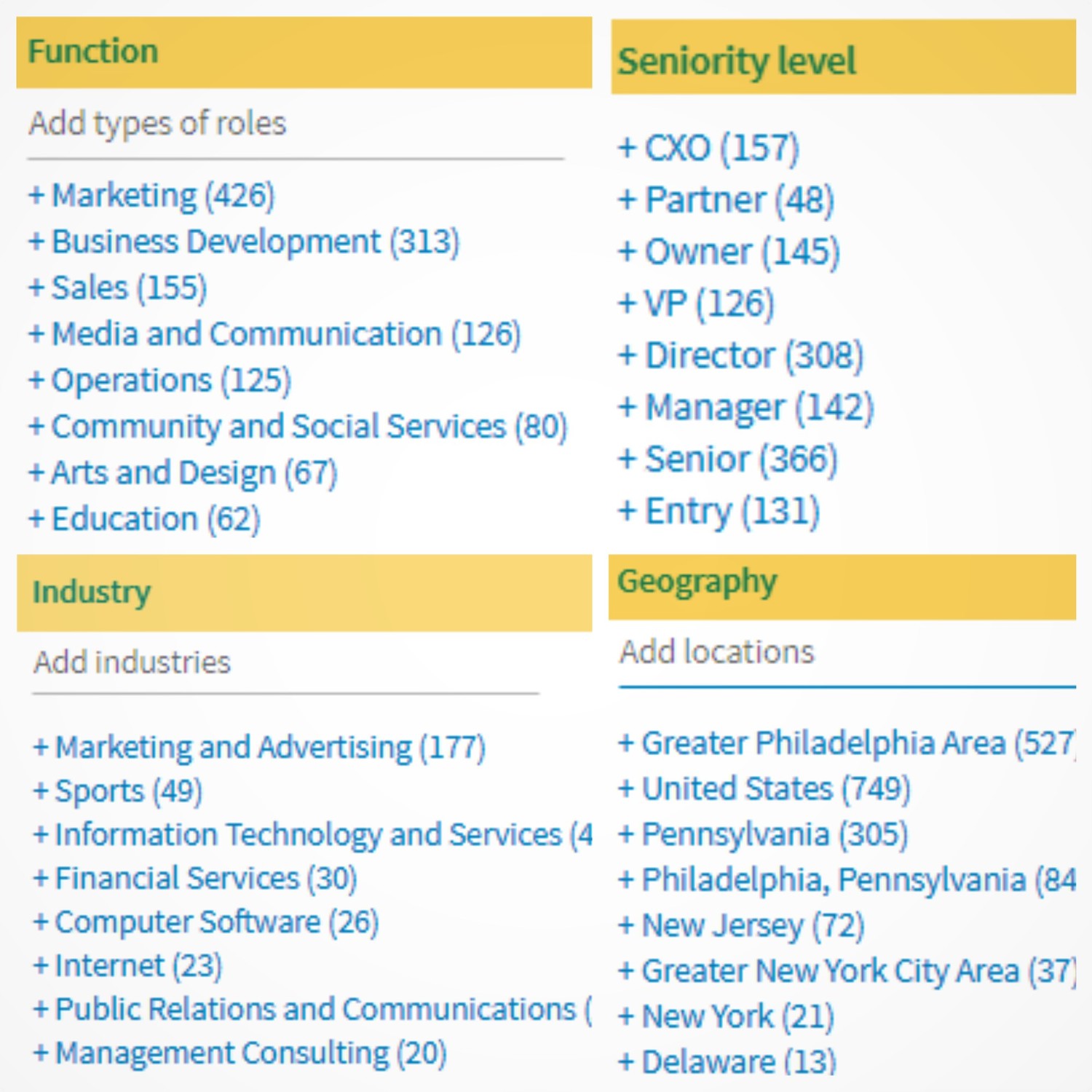 With the demographics above, you need to figure out which topic or content would resonate to the senior staff and the decision-makers - i.e. directors, VPs, owners and CXOs, with a marketing and business development function.
Consider their industries and locations - the majority here are from the marketing and advertising industry in the US, particularly in the Greater Philadelphia area.
5. Make your content interesting or useful to your active LinkedIn connections
The simplest - but not necessarily the easiest - way to establish credibility on LinkedIn is to help your network achieve their own professional goals. As such, you should always be thinking about quality in terms of how useful your content is to your LinkedIn followers. 
In creating your content on LinkedIn, remember this simple rule in content marketing:
"Be the help that your network is looking for. No one wants to be sold to, so use content to build your brand, not to sell your products or services." 
Bonus Tips:
Save your most relevant connections as leads in Sales Navigator so that you're constantly updated with their activities on LinkedIn.
Visit their profiles and read what content they've posted, shared or engaged with in the last 30 days - this will give you more ideas on what type of content they're likely to engage with. 
Where appropriate, join the conversation by engaging with their content. This will boost your visibility and help establish rapport with your leads.  
Additional factors to help boost engagement with your LinkedIn content
If your LinkedIn connections are highly targeted - i.e., you strategically connected with the people who matter to your business - it won't be difficult to think of a topic and write content that benefits both you and them.
Using this content creation strategy for LinkedIn publishing won't necessarily guarantee high engagement, but it will increase the relevance of your content, thus boosting your chances of gaining traction.
Take note that other factors, including your headlines, the images you use, the overall quality of your content and the timing, also come into play in terms of how your content is received.
In terms of timing, according to HubSpot, the best time to post on LinkedIn is midweek, 5 p.m. to 6 p.m. EST.
These guidelines on timing are helpful, however you will need to experiment to see if this applies to your own network. Test and observe until you get the rhythm on when and how your network engages best.