Even though social media monitoring has been around for some time, it's still a fairly underused tactic. It's difficult to say why, exactly, that's the case - the general underestimation of social media marketing, the poor understanding of what social listening is, or maybe the fear to try something new.
Not many marketers fully comprehend the power of social listening. What's great about this strategy is that it is extremely flexible and can be used for various purposes.
Nowadays, the tools required for social media monitoring are not only available to huge corporations, but also to small businesses, startups, and solopreneurs.
Of course, the goals of these companies will differ significantly - for a giant company like Hilton, the biggest priority might be reputation management and staying on top of their brand mentions, whereas for a business that has just launched it might be more relevant to research the market and monitor the more established competitors.
No matter which category your business fits into, there are social listening tactics which can be beneficial for you. In this post, we'll take a look at some of the less obvious ways in which you can use social media monitoring, which can be useful to marketing and SEO agencies, freelancers, small businesses, and aspiring entrepreneurs.
1. Social listening for lead generation
What's the goal of any business? To be useful and profitable. And for young businesses especially, the biggest priority is lead generation and lead conversion.
With the current market saturation, there are not a lot of opportunities to find first clients and early adopters for your startup. Even with the array of digital marketing strategies, like SEO and digital advertising, it's hard to get your message across when there are brands with much bigger budgets making the same push.
Budget is obviously a key issue for startups and small businesses. More than anyone else, they need to generate better results by spending less - in other words, they need a huge ROI.
Social media marketing gets a bad rep when it comes to lead generation. Many marketers are convinced that social media is only good for raising brand awareness or building relationships with existing customers, which is inarguably important, but doesn't bring immediate ROI.
I don't really agree with that statement. It might be applicable to some industries - for example, to those that don't lend themselves to conversion online. But social media is also a great way to find people who are actually highly interested in your product and turn them into loyal customers.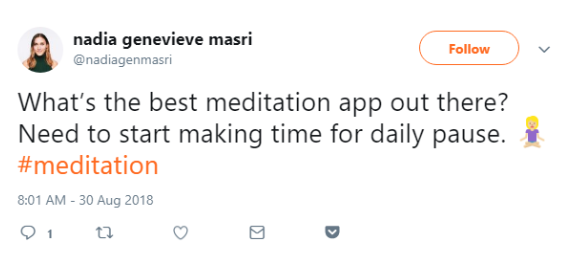 All you need to do is find people who are asking for recommendations for a product similar to yours, or complaining about your competitors. You can immediately engage with them, asking for further information, and/or pitching your services.
According to this study, this social selling strategy is extremely underused, which likely means that you won't have to compete with several other brands trying to do the same thing.
What you need to do
This tactic requires a bit of creativity, but I'm sure you have plenty.
It also requires using a social media monitoring tool with flexible settings, for example, one which features Boolean search mode. You'll need quite a sophisticated query that combines several strings of keywords - after you choose the tool, you need to do the following:
Think about the ways to describe your products or services - Try not to be too technical - on the contrary, try to come up with phrases, which a casual social media user could put into their request for recommendations. For example, using the descriptor 'productivity app' is likely to yield far more results than 'mobile software for task management'.
Draft a list of your competitors - Here's an opportunity to enact symbolic revenge on your more successful rivals. The bigger their brand is, the more unhappy customers you will find.
Consider phrases which indicate a buying intent - There are some that will be relevant for almost any product or service - for example, "looking for", "can anyone recommend/suggest", "what's the best". Others will be applicable to your industry.
Create a monitoring query - One which combines the descriptions of your product with the phrases, which express buying intent. For example, if you have an SEO agency, some combinations you might want to try would be: 'can recommend' + 'SEO specialist', 'looking for' + 'SEO specialist', 'can suggest' + 'SEO specialist'. This takes some work, but the good news is that you only need to do it once.
Collect the leads in your mentions feed - Then you can start engaging with them in real time.
Social selling has been getting more popular lately, and some tools have started offering a dedicated sales prospecting module to save you the hassle.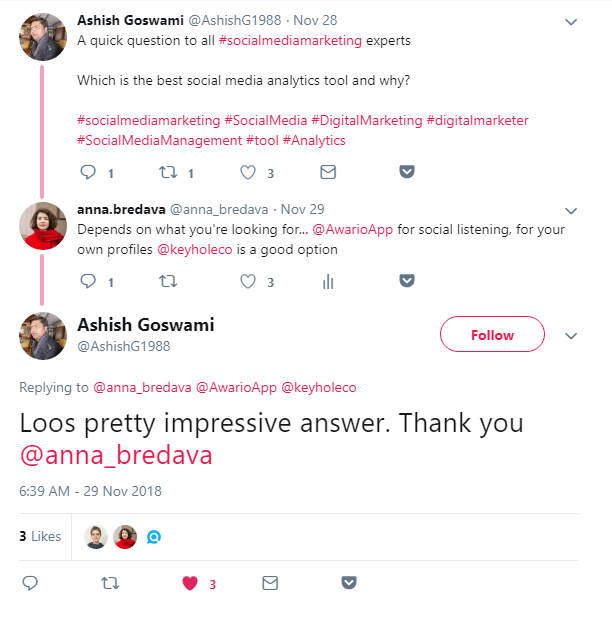 One thing to remember is that social media monitoring will find leads, but the conversion aspect is on you. General rules of pitching, such as "prove value to a customer" and "don't be a robot", still apply.
2. Social listening for link building
Link building has always been one of the core components of SEO - but did you know that there's also a tactic which enables you to find 'linkless' brand mentions and turn them into juicy links?
The thing is, the word "social" in the "social media monitoring tool" is actually quite deceptive since most social monitoring tools now monitor web pages as well. So, despite not being an SEO tool, you can still use social monitoring as a part of your SEO strategy.
Here's how to do it:
What you need to do
The workflow for this one is much simpler. Obviously, you'll need a tool which supports monitoring both on social media and the web. You'll also need a tool with a Boolean search mode, as this query can only be written in Boolean.
After you've chosen a tool, you need to create a very simple query that will find linkless mentions of your brand. Needless to say, it has to include your brand name, and exclude links to your website.
As a Boolean query, it should look like this:
(+"your brand name")
AND NOT link:"your site"
FROM web,news-blogs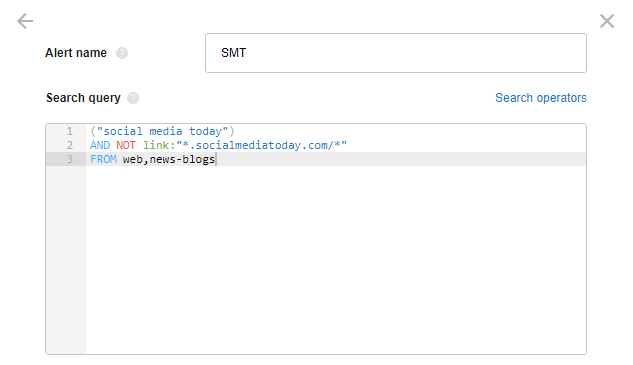 After collecting these linkless mentions in your feed, you can contact website owners and ask them to add links to these pages.
Moreover, you can use social listening to find content related to your field of expertise and contact the author to offer a quote or a valuable source to link to in the article.
3. Social listening for a thief-proof content strategy
Unfortunately, content theft is a common misdemeanor in digital marketing. The practice not only violates copyright, but it can also hurt your SEO efforts - the worst case scenario is that somebody steals your content and then gets a higher ranking than the original article, without you even knowing.
For this reason, it's always a good idea to have an alert dedicated to monitoring for stolen content.
What you need to do
Obviously, since we're looking for content stealers, once again you need a tool which supports monitoring the web.
First off, think about your best-performing articles - chances are they'll be the first to be plagiarized. From there, you need to create an alert with an excerpt from your post (a few sentences will do) and select News/Blogs and Web as your data sources.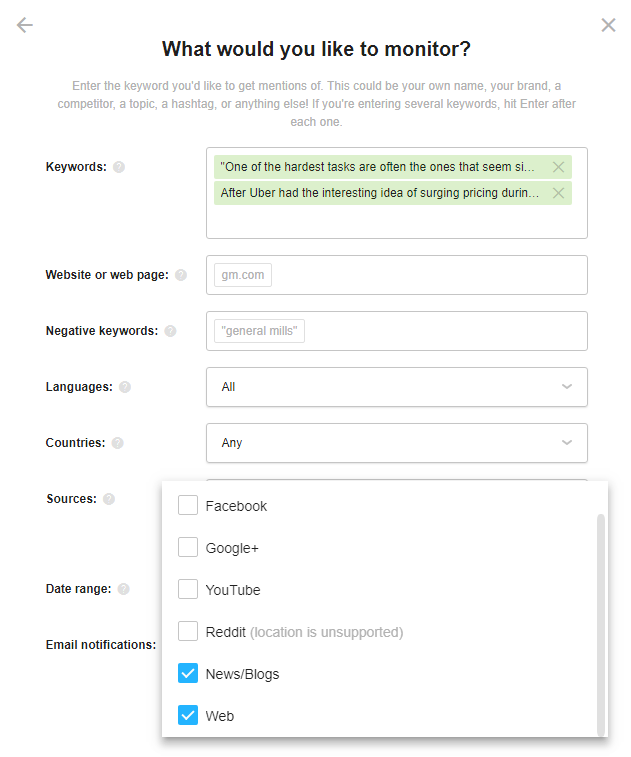 This way you'll be able to find all the sneaky content stealers, and protect your website.
4. Social listening for guest blogging
If you're a content writer, there's no need for me to tell you about the opportunities guest posting can provide.
It's an excellent way to drive an already engaged audience to your blog - but if you're going to spend your time producing amazing content, you need to maximize that effort by reaching the biggest audience possible. Therefore, finding platforms with an engaged audience for guest blogging becomes a major priority.
Of course, every industry has its share of blogging rock stars, but this stardom makes them available to no one but a handful of bloggers with a large following. If you're not at that level yet, you need to find platforms which both have a large engaged audience and will consider your pitch.
Luckily, you don't have to solve this conundrum yourself - social media monitoring can help you find the platforms, which might fly under the radar otherwise.
The reach metric - which shows how many people saw a social media post or a web page - is available in most social listening tools. It will enable you to find a range of websites and/or people with substantial audience bases.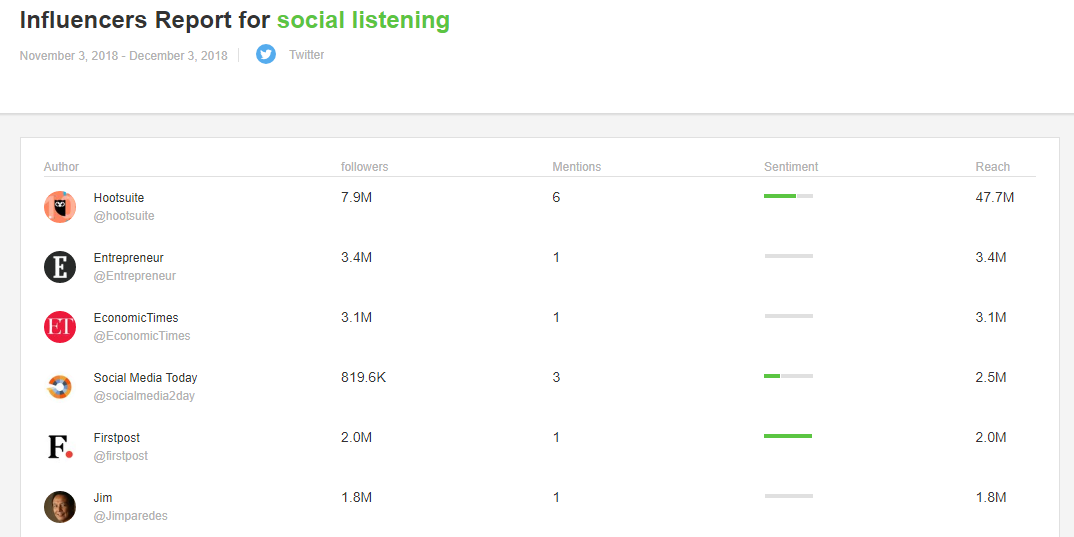 Moreover, some social listening tools provide you with Influencers report, which will show you the most influential accounts related to your keywords. This feature can also be useful for identifying prospective guest blogging opportunities.
What you need to do
First of all, you need to set up an alert with keywords relevant to your niche.
Let's say, you want to start a blog about working remotely - in this case, your keywords might be 'digital nomad', 'working remotely', 'working from home', etc.
After that, there are several ways you can go about it.
You can work with social media - A lot of people with a big social media audience also have websites, and most tools will show you how many times your keywords were mentioned by this social media account. This gives you a clear understanding if this person is an expert in your niche, and the 'Reach' metric will help you identify if they have an audience.
Influencers Report - If it's available, you can go to an influencers report and set it to show you blogs and news sites ranked by reach. The first five might be the above-mentioned 'rockstars', but lower on the list you will find a perfect blend of availability and a significant audience.
Moreover, you can also use social media monitoring to prepare the perfect guest blogging pitch. Choose the platform that you want to pitch, set an alert with their name/web address, and see what kind of content gets more views and social shares. You can use this information to choose a topic of your guest post and casually mention in your pitch:
"I've noticed that your most successful piece was about x, I can offer my unique perspective through y".
If you're interested, here's a much more detailed guide on how to find guest blogging opportunities with a social media monitoring tool.
5. Social listening for product development
If you occasionally hang out on r/Entrepreneur/, you know that the question "What kind of business should I start?" or a less lazy variation of it - "I have this idea for a business, what do you think?" - comes up quite often. And I think it's good - people who ask these questions are doing exactly what I'm asking you to do — research on social media. However, they're doing it on a much smaller scale.
If you're an aspiring entrepreneur, or a developer trying to come up with your own ideas, there's no better source of inspiration than social media. People share their opinions online all the time, all you need to do is find those relevant to your idea, collect and analyze them. 
What you need to do
Suppose, you have a vague idea for a dating app - and of course, you want it to be the best, most popular dating app in the world.
Your course of action might be:
Think of the phrases people would use when expressing a need or desire for something. For example, 'I wish, if only there were/was', 'why is there no',  and so on.
Think about the existing product in your market. Quite often we use something just because there's no better alternative, and we actually wish that it was better or different.
Create an alert combining the words from the first step with keywords like 'dating app', 'Tinder', 'Bumble', you get the idea. Collect the mentions and identify what the pain points are for existing apps and what are the customers' needs. This will turn your vague idea in a full vision app.
Clearly, once again you need a tool with a very flexible search mode.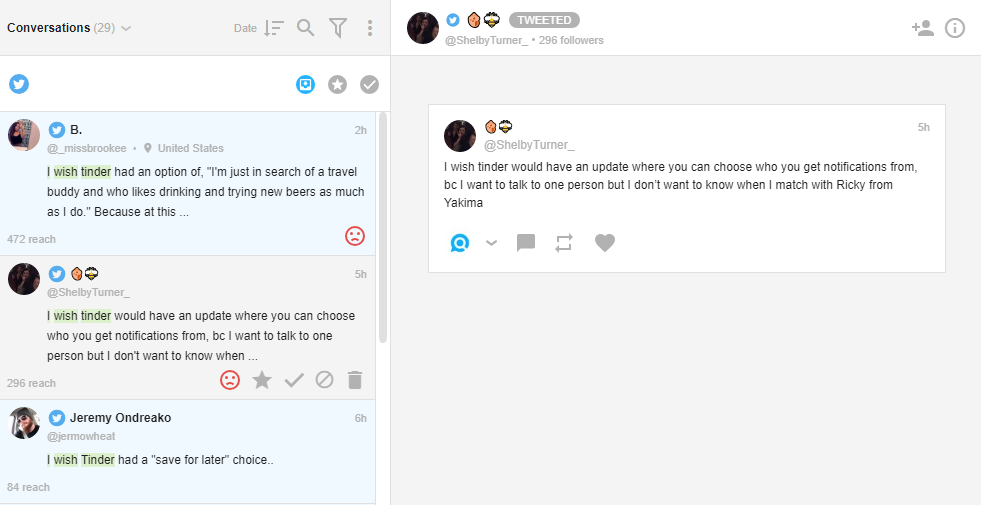 If the only idea you have is the idea of being a business founder (or if you're bored), you can try monitoring just the phrases from the first step and see what people want (or check out this website, which is definitely using social media monitoring).
In conclusion, social media listening can be used in very different situations, with a range of different goals in mind. Try thinking outside the box, and come up with the ideas for how your company can benefit at its current stage.