7 Content Discovery and Keyword Research Tools to Help Boost Your Marketing Efforts
A high-quality blog post can attract thousands of impressions, shares and comments - here are the engagement stats for an article I wrote a few weeks ago. 
Writing such a post is easier than you think - in fact, I would argue that it's the easiest thing to do, provided that you conduct your content research carefully.
Effective content research involves identifying the right keywords, topics, content formats and marketing channels for your content. Each of those objectives can be accomplished by using handy content research tools.
Here are some of the best.
1. LSI Graph 
LSI (Latent Semantic Indexing) is one of the factors which enables search engines to understand the context of your content - it means that search engines go beyond specific keywords to index synonyms and related words for more context in understanding concepts.
SEO specialists who understand this process can use it to create more search-engine friendly content, and LSI Graph is a keyword research tool that can help you source LSI themed keywords for your writing. 
To use the tool, you simply enter your most relevant keyword and incorporate the resulting matches in your content.
Note that the more organic your mentions of LSI keywords, the better your chances at ranking on SERPs (Search Engine Result Pages). 
2. DrumUp 
Success on social media involves a lot of networking, relationship-building and co-marketing. Content curation is key in building these relationships - by sharing fresh and relevant content related to your niche, you can earn the favor of both your social media fans and the authors of such material.
DrumUp is a social media tool that helps curate interesting posts that your fans and potential partners are likely to appreciate. Using DrumUp, you can curate relevant content for everyday use by setting up keywords and RSS feeds.
The resulting posts are accompanied by hashtag and @mention recommendations, which you can use to increase the visibility of your content.  
3. Screaming Frog
An important part of creating great content is staying up to date with the topics that other writers in your field are discussing. You can do this by subscribing to newsletters or adding RSS feeds to a feed reader, if you want fresh content for sharing. But if your intention is to analyze content created by one competitor from the beginning of time, you can crawl their website individually by using a tool like Screaming Frog. 
Screaming Frog indexes all page URLs created for a website, and displays them to you in the form of a list. For content and keyword ideas, scroll the list while paying attention to the slugs.
You'll find tons of interesting ideas to use in your content. 
4. Twitter Lists
One of the quickest ways to curate effective content for marketing is by following influencers on Twitter. Influencer content is not only on-point but also already tested on your target audience - however, if you're a regular Twitter user, you're probably aware of the pains of curating content directly from your Twitter feed. It can be exhausting and inefficient. Instead, you can manage influencer content is neatly organized Twitter lists. 
Twitter lets you create an infinite number of Public and Private Twitter lists. You can use them to group influencers and curate and/or interact with targeted content.
You can also directly share influencer content with your social media fans from Twitter lists.   
5. FAQFox
The best content answers real consumer concerns - but how does one identify those customer pain points?
This can be tricky unless you can directly ask the relevant consumers - however, there is a close alternative that's easily accessible, which involves locating consumer dialogues in online communities.
FAQFox is a content monitoring tool that helps you save manual effort when searching such communities.
First, you need a list of online communities in which your target groups participate. Once you have the list, you can paste it into FAQFox's search bar, along with your keyword/s of interest, in order to identify important questions.    
6. Buzzsumo 
An important part of content research is monitoring current trends on social media. You can do that by studying the most popular posts on social media and reverse engineering them, while you can also get additional insights on content trends by breaking down and analyzing popular blog posts.
Buzzsumo is a content research tool that you can use to analyze top social media and blog posts. 
in Buzzsumo, you simply enter your keyword of interest and click on the content pieces that you want to explore further. For every content piece, the tool provides a list of people who've shared or linked to the post.  
7. Bottlenose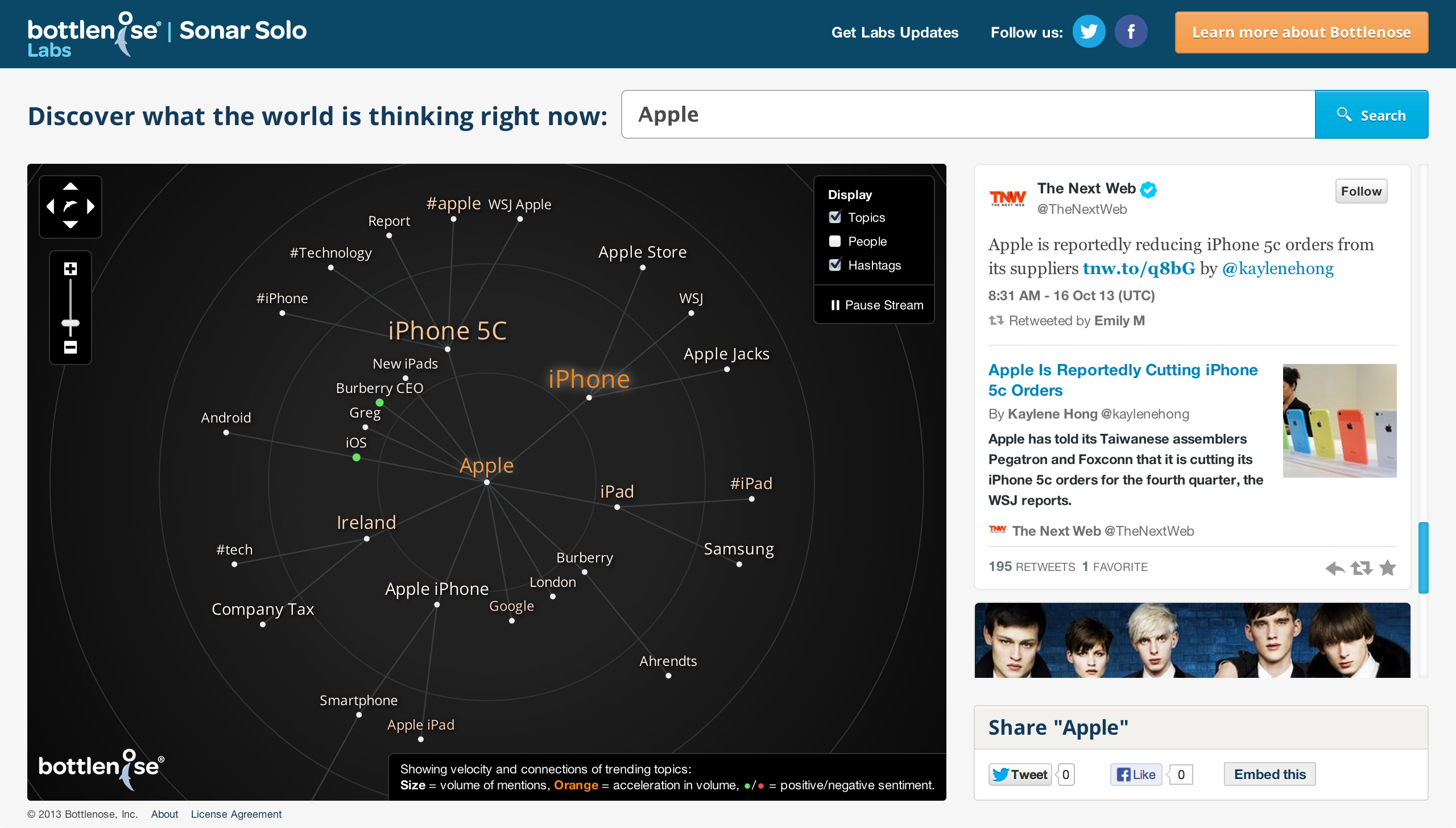 Search engine-based keyword research can help you create effective content - but you can outdo that content if you also consider social media based keyword research. With the prevalence and popularity of hashtags on social media, there's a lot of potential to optimize social media posts for search.
Bottlenose is a keyword research tool which enables you to identify keywords that are trending on social media. 
Using Bottlenose, you can search for the best keywords and topics to focus on, so you can amplify your visibility on social media channels. You can also get insight into the audience that's using certain trending keywords.  
Wrapping Up
Well-designed content can amplify reach, drive traffic and build trust with your target groups. Content discovery and keyword research tools help you source or create such content, so you can expand your reach on marketing channels.