When it comes to choosing influencers, a lot of brands work on the assumption that bigger is better, and go for people with the biggest numbers.
However, as marketing guru Seth Godin notes, marketing on such a large scale can sacrifice what makes you special in the first place.
Instead of going big, says Seth, businesses should look for "the smallest viable audience" of fans, and building meaningful and dedicated communities around them.
In this post, we'll look at why social media isn't meant for targeting the masses, why you should speak to people who are in your "tribe", and how you can get better results by partnering with micro-influencers.
"Social Media and the Revolution"
Recently, the Linkfluence team had the chance to attend Social Media Week in New York City.
There were so many great presentations, but one really stood out for us: Seth Godin's closing keynote address, "Social Media and the Revolution."
In his presentation, Godin took a hard look at the true promise of social media in understanding human communities, and how marketers can use it to its full potential.
As Godin notes, social media platforms offer an incredibly powerful way to engage with groups of people around their interests, values, and loves - however, the breadth and accessibility of social media, as well as its potential to connect highly specific groups of fans, poses some challenging questions.
For example, should businesses tailor their content to niche interests, or try to please everyone?
Getting this engagement right, Seth points out, involves a balancing act between appealing to a broader group of people and targeting smaller audiences.
The experience, he says, is a lot like Tinder - you can swipe right on every available profile and hope something sticks, or you can channel your energies on the dates that could lead to a lasting connection.
With that in mind, let's take a closer look at this question - how should marketers leverage social media to build meaningful connections?
Why social media is not mass media
Social media metrics are all about the numbers. Your follower count, your likes, your clicks - it's easy to fall into the temptation to get those numbers up.
It's a "race for mass," that pushes you to create more content to reach more people.
But that dilutes your power. "If you make something everyone wants, you have to be average," Godin insisted. And to aim for average, in a medium that can so powerfully attract passionate people when used right, seems like a waste of that power.
As Godin notes on his blog, mass media as we know it is gone - now, social media is all about micro media.
As Seth puts it:
"The Ed Sullivan Show existed to sell Jello to everyone. Today, there's no everyone, and certainly no media channel that can sell everyone, cheap, to the folks who market Jello."
Rather than connecting a single product or message with a wide audience, as in the days of TV or radio, social media connects content with bundles of audiences defined by specific interests.
This has contributed to what we call "micro-media" and "micro-targeting."
"Micro media" and "micro-targeting"
These days, there's a bewildering choice of media options out there, with an endless level of customization available.
In an age where ASMR - where you watch people whispering or scratching - and MUKBANG - where you watch people eat an insane amount of food in front of camera - are two of the most watched videos of all time on YouTube, real marketing gold is no longer about finding what "most people" like. 
Instead, it's more valuable to know exactly which niche you're aiming at, and funneling your efforts to a tightly defined group of target customers.
As Goden demonstrates in his book "We Are All Weird: The Rise of Tribes and the End of Normal", traditional notions of marketing to the average or "normal' customer are outdated, as these groupings are becoming increasingly narrow: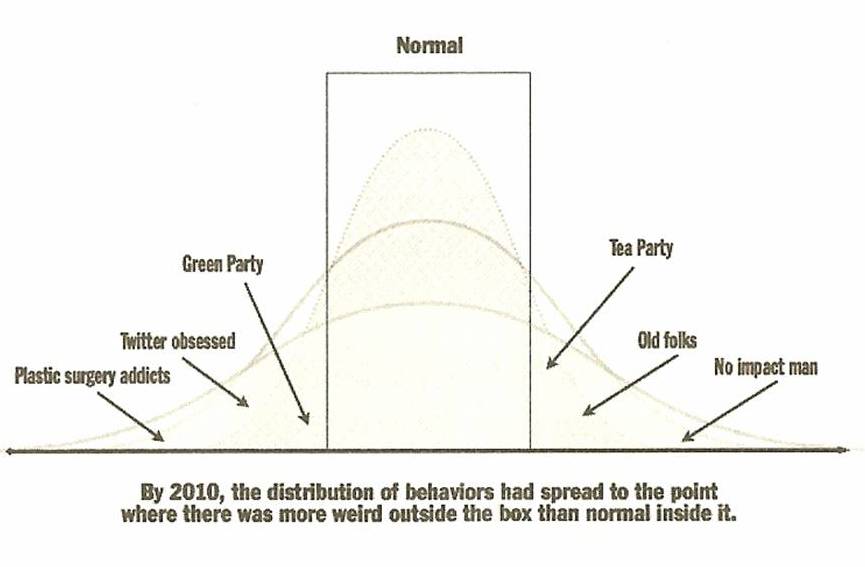 If you cater to the normal, you'll disappoint the weird - and as the world gets weirder, that's not the smartest strategy.
Instead, as Godin puts it, the challenge is to target audiences that are of your tribe, that speak the same language, and care about and love the same weird stuff as you do. These are the people who are in sync with what you're selling.
"When someone wants to know how big you can make your audience or volume, it's worth pointing out that it's better to be important, to be in sync, to be the one that's hard to be replaced. And the only way to be important is to be relevant, focused, and specific."
And how do you do this? By telling great stories to a targeted audience.
Telling great stories to a targeted audience
Media diversification means there's now content available for pretty much any niche group of fans. This makes it crucial for brands to understand online dynamics when promoting their products, as the messaging and context for one ad campaign may not work for another.
Unsurprisingly, Godin has a lot to say on this point.
"Instead of trying to reach everyone, we should seek to reach the smallest viable audience, and delight them so thoughtfully and fully that they tell others."
Adopting this community-driven approach is a great way to build a lasting group of fans and followers, as these smaller groups of people who jump on board are more likely to be passionate and dedicated.
The rise of the micro-influencer
As brands turn towards micro-targeting specific tribes and audiences, it makes sense that the influencers we leverage should go micro as well. 
Anyone can find huge influencers - all you need to do is take a look at who has the biggest number of followers on platforms like Instagram, YouTube, and Facebook.
The real gold for businesses, however, is in finding niche influencers with the values, interests, and aesthetic that best match the product. This is where micro-influencers come in.
What are micro-influencers?
As more brands are realizing the value of small-scale engagement, we're seeing the rise of "micro-influencers." These are influencers, working on deliberately smaller scale (usually between 5,000 - 50,000 followers), to engage with a highly active group of fans and followers.
Micro-influencers work to establish themselves as authorities on specific interests or products, and leverage this authority to provide content to a super-dedicated audience.
A great example of a micro-influencer is poker vlogger Brad Owen, who partners with poker broadcasters to promote products and experience to his dedicated base of about 90,000 fans.
What are the benefits of working with micro-influencers?
For brands looking to engage with a specific audience, partnering with micro-influencers can have some major benefits:
Micro-influencers have more authority due to their specialized niche interests, and their opinion on brands and products carries more weight with followers as a result
They're more authentic, meaning brand partnerships are less likely to come off as cringey or awkward (which, let's face it, is always a risk)
They engage more frequently with their audience, resulting in greater advertising visibility
They're often cheaper to work with, and are more approachable for their fans
They're unique (not everyone wants to post with Kardashians) and offer a fresh face for social media users tired of always getting the hard sell
All of this translates into more meaningful engagement with their fans, and more cost-efficient influencer marketing campaigns.
But how can you find the right micro-influencer for you?
Find the right micro-influencer with data and analysis
Finding the right influencer can be tough.
You have to make sure their personal brand is complementary to your business, ensure they have authority when it comes to particular topics, and know in detail their potential to get new exposure for your brand.
This involves considering criteria such as:
The influencer's social footprint
The relevance of your brand to their fans and followers
The potential for amplification across different platforms
The influencer's proximity to desired markets
Analyzing all of these factors can be time-consuming, and can involve looking at complex - and confusing - data like follower count and online reach.
By using social listening combined with AI, however, you can build a profile of the right micro-influencers for your business, and assess the likelihood of a successful campaign based on their online activity.
"Someone's gotta be a Kardashian, but it's not gonna be you"
Social media has exploded traditional notions of mass media, and has made it easier for fans to build meaningful online communities around a particular product or interest.
In this environment, there's huge potential for brands to partner with micro-influencers to promote products or services to a niche tribe of dedicated followers.
This kind of targeted storytelling can be a real antidote to a lot of the broad (and frankly boring) content out there designed to appeal to as many people as possible.
Whether you're talking about a micro-influencer engaging their fans on sneakers, poker, or anything, really, it's better to think smaller and chase more meaningful connections.