I'm sure that almost every blog or article that you've read about Facebook's most recent News Feed update has told you that the world is ending, and brands won't get seen no matter how hard they try.
First and foremost, please calm down. Facebook has made similar moves over the last 10 years to encourage users to spend more time on the site. To do this, Facebook has to ensure that users are seeing content that they really care about, which is usually content from family and friends. With this latest update, Facebook will be prioritizing posts which trigger conversations, and meaningful interactions between users. Therefore, users will start seeing more from their friends and family, and less from brands.
Since space in the News Feed is limited, this is a good thing. By turning down the volume on brands, and reinforcing a positive user experience, Facebook's nurturing its own community so that it becomes ripe for advertising again. Facebook has stated that they are not phasing out brand Page content from the News Feed, they're just lessening their presence (Facebook CEO Mark Zuckerberg has said that after the change, they expect Page content to make up roughly 4% of News Feed content - down from around 5% today).
It's pretty much like growing corn - you nurture the crop until a certain point and then you harvest it. You must nurture more than you harvest in order to even have a harvest. That, my friends, is what Facebook is doing.
And while this might be a pain in the short term, there are some things you can do. Here are five tips to help you maintain your presence within Facebook's News Feed.
1. Facebook Ads
It's time to treat social media marketing just like you would any other digital marketing channel.
Leveraging Facebook Ads is a fantastic way to ensure that your message gets seen. With organic Facebook postings, you have very little targeting capabilities. With Facebook Ads, you have a wealth of targeting parameters to ensure that the most important people see your content.
2. Video
Facebook is obsessed with video these days. If you can manage to publish video content that users watch repeatedly, and come back to your Page to consume other video content, you'll get preference in the News Feed.
The key here is quality People have to actually like your content and want to view it. Facebook Live is also a terrific way to gain visibility in the News Feed because Live videos usually generate a lot of conversation. Generating conversations will get you seen.
3. Encourage the "See First" Option
Facebook introduced the "See First" option for Pages a while ago, and it looks set to become an even more important option.
When a user selects this option for your Page, your posts will appear at the top of their News Feed. This sounds fantastic in theory, however there are a few caveats.
First, do you think users actually want to see all of your content at the top of their News Feed? Probably not. Also, if most Pages start pushing this option, the feature will be moot.
Encouraging users to see you first is an option, however I would recommend respecting the "space" in their News Feed and not bombarding them with your content.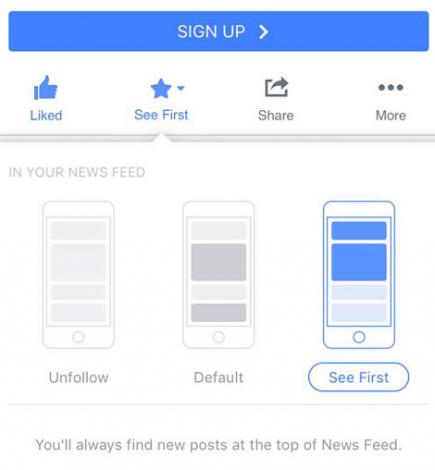 4. Avoid Comment Bait
Engagement bait is a spammy tactic used to nab superficial engagements from the social community.
If you want to be seen in the News Feed, don't do any of this:
Tag Baiting - Asking people to tag their friends.
Comment Baiting - Asking people to comment with specific answers (words, numbers, phrases, or emojis).
Vote Baiting - Asking people to vote using reactions, comments, sharing, or other means of representing a vote.
React Baiting - Asking people to react to the post (includes like, love, haha, wow, sad, and angry).
Share Baiting - Asking people to share the post with their friends.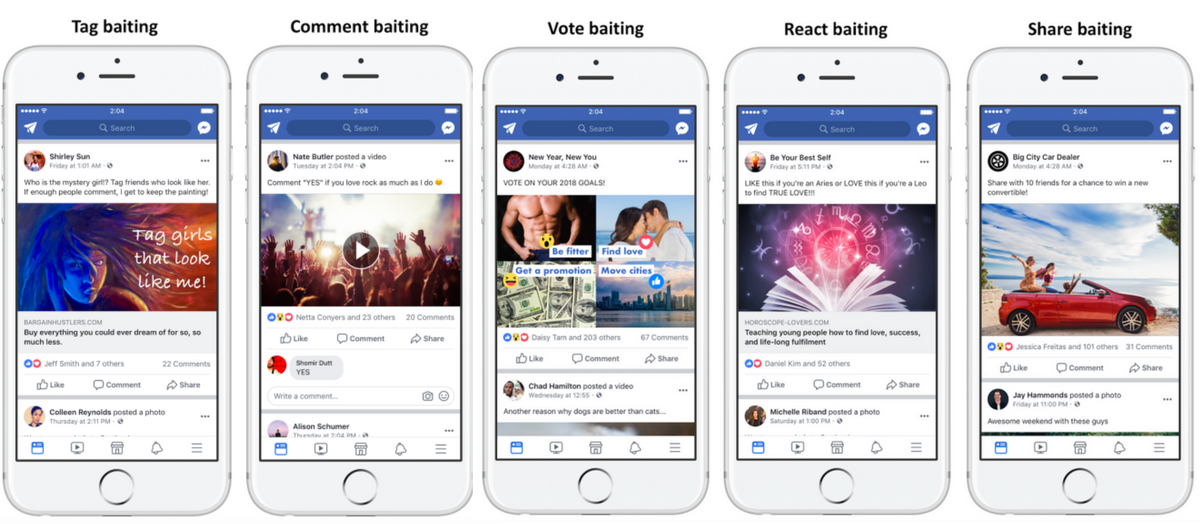 These kinds of actions will be severely devalued in the News Feed making it harder for people to see your content.
While the latest News Feed rollout isn't great news, it's not the end of the world. If you shift your strategy, invest in Facebook Ads and test some video, you should be fine. After all, we have to grow those crops before we can harvest them, right?
Hang tough, Facebook will turn to serve advertisers once again in the coming months (or years).