"Be who you are and say what you feel, because those who mind don't matter, and those who matter don't mind." -Bernard M. Baruch
Personal branding on LinkedIn is a matter of positioning. Being clear about what you stand for will guide you through as you position yourself in the industry.
So what do you stand for?
When people hear your name, what do you want them to think? When they visit your LinkedIn profile and leave, what do you want them to remember? When you engage with them, what do you want them to feel?
Knowing what you stand for involves finding your niche, discovering your unique voice and being clear about your values.
"There's no doubt that personal values shape our sense of self, and are therefore an essential part of developing our personal brand." - Lisa Orban
What I've found is that, without clarity on what we stand for, we end up literally listing down all the "boring stuff" that doesn't resonate with our target audience - our current title and company, our past title and company, our job descriptions, the year we started, year ended our jobs, etc.
There's no focus. Everything is written in chronology, not based on what truly matters. But if you write your profile using a story, instead of chronology and facts, it will resonate more with your audience.
And if you can frame your narratives into a beautiful "package" that tells your audience why you're doing what you're doing, and where they fit into the picture, they'll likely be interested in learning more about you.
Demonstrating what you stand for helps build your influence and attract like-minded people who have the same passions and aspirations, and who tell similar stories, and that can be extremely powerful.
Here are three ways you can demonstrate what you stand for on LinkedIn:
1. Use a tagline or a slogan to clearly communicate what you stand for
Whatever it is that you stand for, communicate it in simple terms. It should be easy to understand, and easy to remember. One way to do that is by creating a tagline that you can include in your headline.
You could also create a slogan, which is more focused than your tagline, and make it visible throughout your profile (e.g. on your LinkedIn banner, profile summary and Experience section).
For example, I use "Make LinkedIn Work For You" This is what I want my profile visitors to know, and to remember — that I can help make LinkedIn work for them.
Anna McAfee, co-founder of the LinkedIn Local movement, communicates in her profile summary and headline how much she values community building: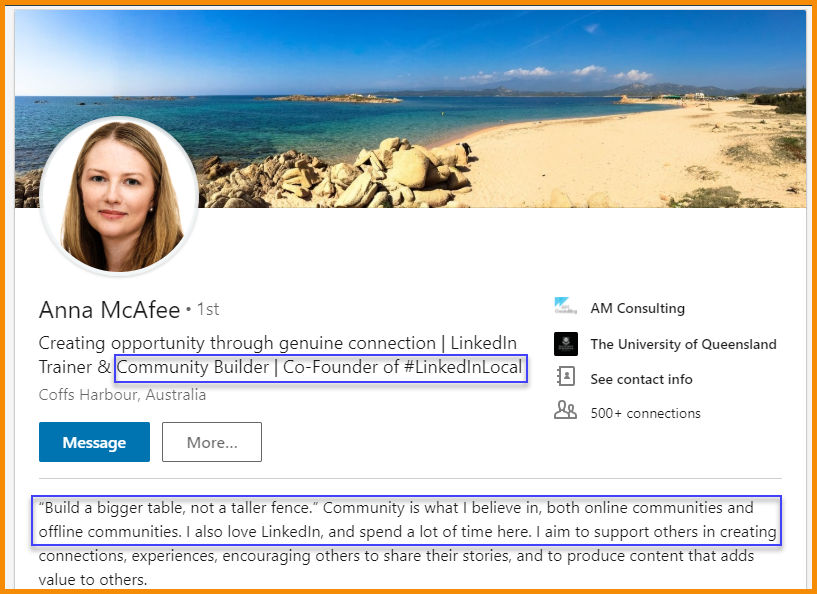 2. Create your own #hashtag
You need to have a theme. Your tagline is a great starting point — that'll direct your actions on LinkedIn - but your views should be clear and consistent. If you're publishing on LinkedIn, you can't just talk about anything that comes to your mind. You have to be intentional.
To ensure you don't get lost, you could consider creating your own hashtag. For example, I created the hashtag #LinkedInForSuccess and have been using it in my posts. Other hashtags I use include #personalbranding, #freelancing, #socialselling, and #LinkedInLocalPH.
By simply searching through your hashtags on LinkedIn, you'll discover who's sharing and engaging with your content.
Plus, your content becomes discoverable on the platform. Eventually, people will associate you with your own hashtag. It's a free and easy way to get discovered.
Kassy Pajarillo displays her hashtag, #embraceambition, on her LinkedIn banner to instantly communicate what she stands for:
Amy Jones recently published an article featuring some of the popular hashtags here on LinkedIn, which include the following, among so many others:
Recently, LinkedIn has also rolled out an option for members to follow communities using hashtags.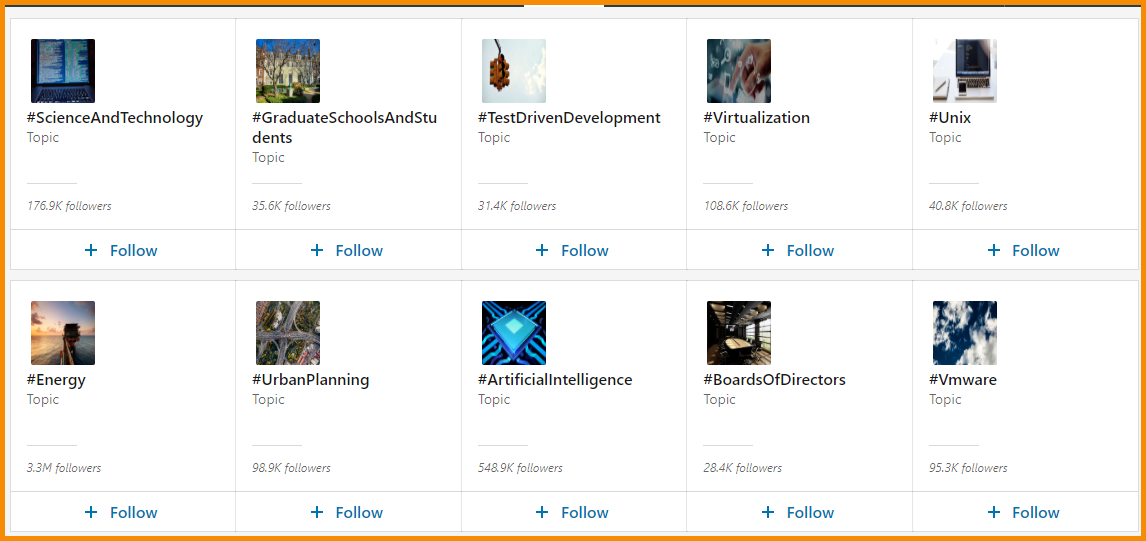 Now, you can also pin the top hashtags you want to follow - leverage these changes to stand out and be discovered on LinkedIn.
3. Make every interaction with your network a chance to demonstrate your values and beliefs
Every interaction with your network is an opportunity to show who you are, and what you stand for. Be authentic. Let your values show, and don't be afraid to share your beliefs, while also acknowledging other people's stances.
By being authentic, you'll naturally stand out from the pack. That's how personal branding works.